Paul Floreancig's group at the University of Pittsburgh has developed a stereoselective heterocycle synthesis starting from allylic alcohols.
Treatment of allylic alcohol (1) with rhenium heptoxide leads to the formation of a perrhenate ester (2) that undergoes a rearrangement to form a mixture of two ester stereoisomers (3 and 4). Cyclisation occurs through nucleophilic addition to the reactive oxo-carbenium intermediate to form a mixture of kinetic products (5 and 6). Owing to the fact that that ring formation is reversible in some cases, stereoselectivity arises from one product being more thermodynamically favourable; a discovery that the Floreancig group have developed to their advantage.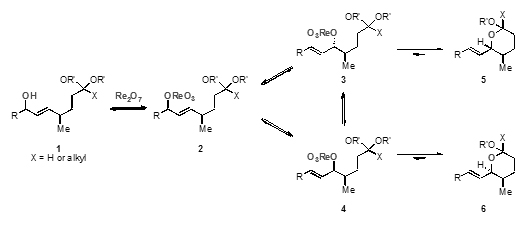 Stereoselectivity is increased in substrates that are better able to stabilise the oxocarbenium ion of the acyclic intermediate and thermodynamics dictate the stereochemical orientation of the anomeric centre formed.
Youwei Xie, from the Floreancig group, has extended this methodology to enable the construction of bi- and tricyclic structures in good to excellent levels of stereocontrol.

This methodology enables the synthesis of complex three-dimensional architectures from starting materials containing pre-installed stereocentres. Additionally, a number of biologically active compounds such as didemniserinolipids and pinnatoxins contain bridged bicyclic cores that could be accessed using this chemistry.
Researcher's perspective:
"It was inspiring to find that allylic alcohol isomerisation could be applied to the construction of so many useful organic substructures. We were very excited to discover that pre-installed stereocentres are capable of controlling new stereocentres through thermodynamically driven equilibration, since this process allows for complex molecule synthesis and minimises the use of chiral reagents." Youwei Xie
Posted on behalf of Alice E. Williamson, Chemical Science web writer.
Download the group's Chemical Science Edge article for free.