Researchers from the University of Delaware have reported a total synthesis of hyacinthacine A2, an attractive target owing to its selective glycosidase inhibition and activity against HIV. 
Joseph Fox's research group achieved the synthesis in less than ten steps from sucrose by designing and synthesising a functionalised 5-aza-cyclooctene system (1) that would undergo a novel transannular hydroamination, following stereocontrolled photoisomerisation.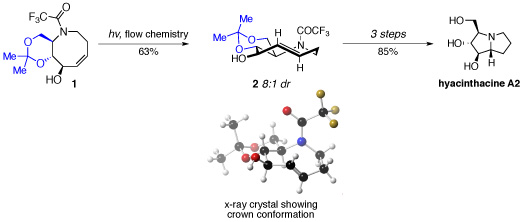 The efficiency of the photoisomerisation process was improved by using a flow system that removes trans-isomers by selective complexation with silver salts, thereby enabling the cis-isomer of 1 to be recycled. Incorporation of a fused acetonide ring system in 1 imposed significant conformational constraints to favour formation of the desired trans-diastereosiomer 2 in good yield and in 8:1 diastereomeric ration following decomplexation from the silver salts.
Following separation of the major diasteroisomer of 2, and cleavage of both trifluoroacetyl and acetonide protecting groups, the corresponding ammonium salt was obtained. The planar chirality present in 2 was perfectly transferred in a transannular hydroamination to give the point chirality present in the natural product.
Find out more by downloading Professor Fox's Chemical Science Edge article, which is free to access.
Posted on behalf of Alice E. Williamson, Chemical Science web writer.