The promising anticancer compound nutlin-3 is likely to become more widely available to researchers thanks to a new synthetic protocol developed by US chemists.
Nutlins, a group of compounds centred on a nitrogen-containing heterocycle, were discovered by scientists working for Hoffman-La Roche in 2004 and were found to inhibit a key interaction between two proteins involved in cancer pathways, with nutlin-3 the most potent of these.
The compound has attracted widespread interest but details of its synthesis are difficult to glean from the available literature – no full protocol has been published. The molecule has multiple chiral centres and synthesising the required stereoisomer is difficult.
Tyler Davis and Jeffrey Johnston at Vanderbilt University in Tennessee have used catalysts they developed to devise a straightforward synthesis of nutlin-3 that is highly selective for the required stereoisomer.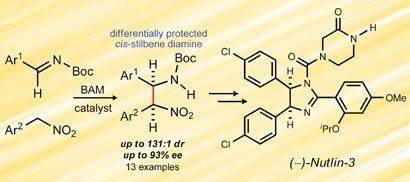 To find out more, read the full news story in Chemistry World and download Johnston's Chemical Science article for free.