Japanese scientists claim to be breaking new ground by making optimal use of limited noble metal resources with one of the most abundant, renewable bioresources – cellulose.
They made gold nanoparticles (AuNPs) were made using crystalline cellulose single nanofibres (CSNFs), tailored from native cellulose. The AuNPs@CSNFs composite showed excellent catalytic efficiency, with a turnover efficiency of 840 times more than conventional polymer-supported AuNPs.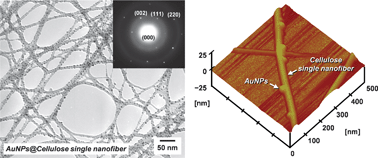 Takuya Kitaoka from Kyushu University and colleagues from the University of Tokyo, have published their findings in ChemComm, which is free to access until the 3rd December. So why not download the article today and blog some feedback below?