We are delighted to welcome two new Advisory Board members to the Soft Matter team: Bradley Olsen (Massachusetts Institute of Technology, USA) and Thomas Epps III (University of Delaware, USA).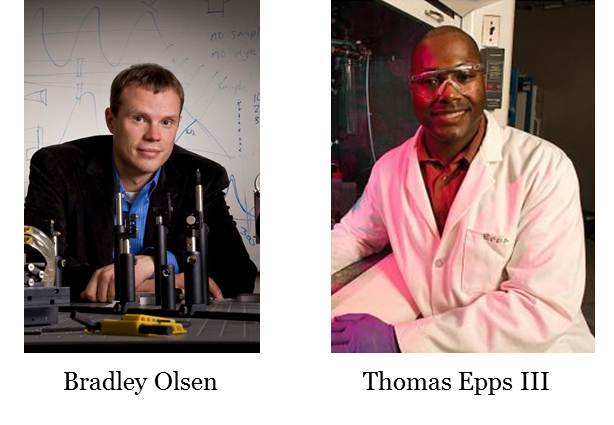 I hope you'll join us in giving a warm welcome to Bradley and Thomas in their new posts as Soft Matter Advisory Board members.
Bradley Olsen's interests lie in investigating the relationships between molecular structure and self-assembly, applying concepts from block copolymer assembly and polymer gels in order to understand complex biohybrid materials. His research endeavours to extend the capability of soft materials such as engineering plastics, energy converters, catalysts, and biomedical hydrogels. One of his recent articles will be featured as part of Soft Matter's upcoming web collection to celebrate the journals 10th Anniversary.
Take a look at Bradley Olsen's recent Soft Matter papers and learn more about his research:
Celebrating Soft Matter's 10th Anniversary: Chain configuration and rate-dependent mechanical properties in transient networks
Michelle K. Sing, Zhen-Gang Wang, Gareth H. McKinley and Bradley D. Olsen
Soft Matter, 2015, 11, 2085-2096
Coil fraction-dependent phase behaviour of a model globular protein–polymer diblock copolymer
Carla S. Thomas and Bradley D. Olsen
Soft Matter, 2014, 10, 3093-3102
Thomas Epps III focusses on designing, synthesising, and characterising new polymeric materials exhibiting molecular level self-assembly. His research is applicable to a range of fields, such as battery and fuel cell membranes, analytical separations membranes, nanoscale containers and scaffolds for targeted drug delivery and surface responsive materials. His most recent Soft Matter article was highlighted as a Hot article and featured in the 2014 Soft Matter Hot Papers web collection.
Find out more about Thomas Epps III's research by reading these recent articles:
Biobased building blocks for the rational design of renewable block polymers
Angela L. Holmberg, Kaleigh H. Reno, Richard P. Wool and Thomas H. Epps, III
Soft Matter, 2014, 10, 7405-7424
Poly(methyl methacrylate-block-vinyl-m-triphenylamine): synthesis by RAFT polymerization and melt-state self-assembly
Sarah E. Mastroianni, Joseph P. Patterson, Rachel K. O'Reilly and Thomas H. Epps, III
Soft Matter, 2013, 9, 10146-10154
If you have enjoyed reading Bradley's and Thomas's recent articles, why not submit your next paper to Soft Matter?