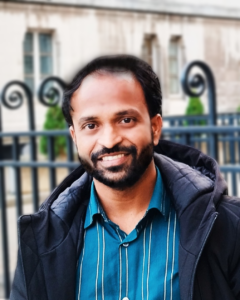 Ravi Kumar Pujala is an Assistant Professor in the Department of Physics at the Indian Institute of Science Education and Research (IISER) Tirupati, Andhra Pradesh, India. He is currently at Laboratoire de Physique des Solides (LPS) at the University of Paris-Saclay as a Visiting Professor. Before joining IISER Tirupati, he worked as DST INSPIRE Faculty at School of Physics, University of Hyderabad, India (2017-2018). He received his Masters in Physics (2008) and Ph.D. in 2014 from Jawaharlal Nehru University (JNU), New Delhi, on Dispersion Stability, Microstructure and Phase Transition of Anisotropic Nanodiscs. Subsequently, his post-doctoral stints were at (i) IESL/FORTH, Crete, Greece with Prof. George Petekidis' Group he worked on shear induced crystallization of colloidal hard sphere glasses and (ii) at Utrecht University, Netherlands, with Prof. Alfons van Blaaderen he investigated 3D model active particle systems. His research work involves both basic and applied outcomes of Soft Matter, in that his research group (i) studies physics of soft matter of both passive and active systems and (ii) fabricates new mesostructured materials by self-assembly.  His long-term goal is to develop new functional soft materials with reconfigurable structures at the nano and meso-scales. Ravi's research accomplishments are well recognized through several awards including Springer Thesis International Award (2014), DST INSPIRE Faculty Award (2016) by Government of India, Marie Sklodowska-Curie Actions Seal of Excellence for "A High-Quality Project Proposal" by European Commission (2017), Visiting Professor/Researcher at University of Paris-Saclay supported by CNRS, France (2020 and 2023), and two Core Research Grants (CRG) of the SERB, India. He also serves as the Associate Guest Editor and Review Editor of the journal Frontiers in Soft Matter.
Find more about Ravi's work @PujalaRavi 
Read Ravi's Emerging Investigator article http://xlink.rsc.org/?doi=10.1039/D3SM00451A 
How do you feel about Soft Matter as a place to publish research on this topic?
Soft Matter is one of the most revered journals in the field. Since I started my research in understanding the physical principles underlying soft matter, I have regularly followed publications in Soft Matter and have been excited to publish in the journal. Soft Matter provides a rigorous and rapid peer review with constructive feedback on the manuscripts. Soft Matter provides a great forum for the communication of interdisciplinary soft matter research as it focusses on the interface between Chemistry, Physics, Materials Science, Biology and Chemical Engineering. The wide readership from researchers across diverse disciplines makes Soft Matter an important choice to publish our best work.
What aspect of your work are you most excited about at the moment and what do you find most challenging about your research?
Currently, we are excited about the prospects of identifying and incorporating tiny amounts of nano or microparticles to address the challenges of mechanically weak and easily dissolvable hydrogels in physiological environments. Such systems can be effectively used for diverse applications in biomedicine such as tissue engineering and drug delivery applications. In this regard, we have designed a simple, biocompatible and cost-effective novel thermoresponsive hybrid hydrogels by incorporating very small amounts of paramagnetic nanorods. This system has unique stimuli-responsive characteristics, rheological properties and injectability. However, the most challenging aspect is to develop thermoresponsive magnetic hydrogels for biomedical applications with unique rheological properties, which will expand the horizon of application across diverse fields including that of biomedicine.
In your opinion, what are the most important questions to be asked/answered in this field of research?
A crucial question that still requires rigorous understanding is how can we achieve multiple functionalities such as thermoresponsive, biocompatibility, magnetoresponsive, thermally stable and injectability in a single hybrid hydrogel using very low loading of the nanoparticles.
Can you share one piece of career-related advice or wisdom with other early career scientists?
Based on my own personal experience and seeing some of my peers, I strongly feel that one needs to be brave and be open-minded to venture into challenging problems and be adept to gain new experiences and forthcoming to seek support. This sets a good platform for both scientific and professional growth. Creating a (i) stimulating environment by investing in challenging problems and (ii) support system to fall back during challenging times,  helps generate a never-say-die attitude, which motivates the entire group. Spending good amount of time with the students in the lab, training them, is a worthy investment. This will allow one to generate a wealth of experience, instead of counting successes and failures.