We are very pleased to announce a themed collection in Soft Matter on the Soft matter aspects of cancer.
This special issue presents important developments in cancer cell mechanics, mechanobiology, tissue mechanics and bioengineered models of cancer, in addition to emerging technologies in the field. The Guest Editors for this collection are:
Professor Tanmay Lele (Texas A&M University, USA)
Professor Anna Taubenberger (Technische Universität Dresden, Germany)
In their Editorial, Guest Editors Tanmay and Anna discuss the importance of understanding the biophysical changes in cancers and how these can be studied through the lens of soft matter research.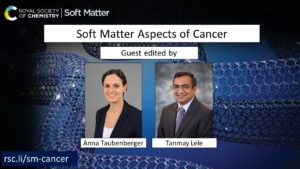 The full collection can be found here and we have also highlighted a selection of articles below. We hope you enjoy these, and the rest of the articles included in the collection.
Materials-driven approaches to understand extrinsic drug resistance in cancer
Justin R. Pritchard, Michael J. Lee and Shelly Peyton
Soft Matter, 2022, 18, 3465-3472
Towards an integrative understanding of cancer mechanobiology: calcium, YAP, and microRNA under biophysical forces
Chenyu Liang, Miao Huang, Tianqi Li, Lu Li, Hayley Sussman, Yao Dai, Dietmar W. Siemann, Mingyi Xie and Xin Tang
Soft Matter, 2022, 18, 1112-1148
On the origins of order
Jeffrey J. Fredberg
Soft Matter, 2022, 18, 2346-2353
Cell adhesion strength and tractions are mechano-diagnostic features of cellular invasiveness
Neha Paddillaya, Kalyani Ingale, Chaitanya Gaikwad, Deepak Kumar Saini, Pramod Pullarkat, Paturu Kondaiah, Gautam I. Menon and Namrata Gundiah
Soft Matter, 2022, 18, 4378-4388
Skin epithelial cells change their mechanics and proliferation upon snail-mediated EMT signalling
Kamran Hosseini, Palina Trus, Annika Frenzel, Carsten Werner and Elisabeth Fischer-Friedrich
Soft Matter, 2022, 18, 2585-2596
All the articles in the collection are currently FREE to read until 31 March 2023!