When I set out to write this blog, I thought of a laboratory story to be able to share with readers the experience from the generation of ideas to the final results, but I decided to share how my desire to work in a laboratory, my little "scientific history", to introduce you from the beginning the theme that I am beginning to develop today. It all started in the year 2000 when at school we carried out a project called "Proyecto Ecológico", which aimed to treat solid household waste, to reduce urban pollution in my hometown of Villa Valeria and raise awareness among the population that the waste generated can be reused.
This project lasted only two years, but for me it lasted a lifetime, because it was the reason why I chose a profession related to the natural sciences and the environment. My first scientific steps were in the area of green chemistry, studying ionic liquids, but in the search to develop a more applied theme and to solve environmental problems that currently concern my country, I decided to work with dairy farm wastes to generate organic amendments, which enable the recovery and improvement of productive soils.
Considering that dairy activity is very important in Argentina, ranking as 2nd producer of milk in Latin America and 11th worldwide, but it generates a lot of waste, so that it is a constant concern. Only 17% of these are disposed as fertilizer to some kind of crop or pasture, while the rest is discarded without being treated, being very dangerous for the environment, since they contaminate both to the ground and to the watersheds. But if these wastes are treated, they can add value, and instead of being pollutants, they become recuperators and soil improvers. In this way, said agricultural production would be more sustainable.
The objectives of my research work are to compost with the solid fraction of dairy farm wastes, for the generation of organic amendments of agricultural quality. Then determine the physicochemical characteristics, the composition and classify the quality of the amendments generated, and evaluate the effect of its application to agricultural use soils. And finally, to generate areas of dissemination of the results obtained, both with producers, technicians, professionals and companies in the agricultural sector, as with the scientific community, so I started writing this blog. I wanted to start by sharing my little "scientific history", to show that the dreams and vocations that one has been building since childhood should never be abandoned because they forge us as professionals. Soon I will be sharing the first results obtained from this research.
About the Web Writer: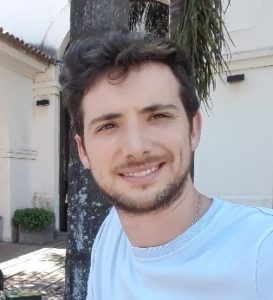 Cristian M. O. Lépori is Doctor in Chemical Sciences and currently has a postdoctoral position at the "Enrique Gaviola" Institute of Physics, CONICET, National University of Córdoba (Argentina). He works in the area of nuclear magnetic resonance studying hybrid materials formed with porous matrices and ionic liquids for use in lithium batteries. He likes to plan, organize and carry out science dissemination activities. You can find him on Twitter at @cristianlepo.

Submit to RSC Advances today! Check out our author guidelines for information on our article types or find out more about the advantages of publishing in a Royal Society of Chemistry journal.
Keep up to date with our latest HOT articles, Reviews, Collections & more by following us on Twitter. You can also keep informed by signing up to our E-Alerts.