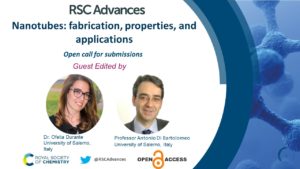 RSC Advances is delighted to announce a new themed collection entitled 'Nanotubes: fabrication, properties, and applications'. The collection is Guest Edited by Dr. Ofelia Durante (University of Salerno, Italy) and Professor Antonio Di Bartolomeo (University of Salerno, Italy).
Scope
In the past three decades, the intense research activity on carbon nanotubes has unveiled fundamental phenomena and enabled novel applications in nanoelectronics, gas sensing, photodetection, telecommunication, quantum information, material engineering, nanomechanics, nanofluidics, nanomedicine, pharmacology, food industry, catalysis, energy science, etc.
The great success of carbon nanotubes has stimulated research towards the fabrication of nanotubes from other materials. Along this line, the family of two-dimensional transition metal dichalcogenides (TMDs) has offered new opportunities. Indeed, nanotubes of MoS2, WS2, etc. have been already synthesized and studied. Other nanotubes, such as black phosphorus ones, have been theoretically predicted but not experimentally established.
New approaches to the synthesis and characterization of nanotubes are continuously developed and new applications are proposed.
This Special Issues is focused on the recent progress on the synthesis, characterization, and applications of nanotubes, either from carbon, TMD or any other materials. The special issue aims to collect research papers with new experimental, theoretical or simulation results on nanotubes. Review articles that offer comprehensive coverage of specific aspects or new insights and perspectives are welcome as well.
How to submit
Both Papers and Review articles will be considered for this issue. All submissions will be subject to an initial assessment by Associate Editors and, if suitable for the journal, they will be subject to rigorous peer review to meet the usual high standards of RSC Advances.
Our APC is among the lowest in the industry and there are no submission charges. Discounts and waivers are offered to authors from developing countries.
If you would like to submit to this issue the manuscript should be prepared according to our article guidelines and submitted via our online system anytime before the submission deadline of 21st of December 2023. During submission, authors will be asked if they are submitting for a themed collection and should include the name of the themed collection. If you would like to submit but require additional time to prepare your article, please do let us know by contacting the journal.

Submit to RSC Advances today! Check out our author guidelines for information on our article types or find out more about the advantages of publishing in a Royal Society of Chemistry journal.
Keep up to date with our latest Popular Advances, Reviews, Collections & more by following us on Twitter. You can also keep informed by signing up to our E-Alerts.