In 2011 the Royal Society of Chemistry published the first issue of RSC Advances, and to celebrate our 10th anniversary we would like to share with you some of the very best articles that have been published in the journal throughout the years.
It is also peer-review week and we would like to take this opportunity to thank all of RSC Advances reviewers and in particular the members of RSC Advances Reviewer Panel for their hard work and support of the journal. The RSC Advances Reviewer Panel is made up of global expert reviewers from across the chemical sciences and all at post-PhD career stages. In this blog collection, a selection of some of the excellent articles published in RSC Advances by our Reviewer Panel members is showcased.
Are you interested in becoming a reviewer? Would you like to join RSC Advances Reviewer Panel? Find out more about being a peer-reviewer and sign up here!
Find out more about the history of RSC Advances and how we got to where we are today in the Editorial: RSC Advances: celebrating 10 years of publication.
We will continue to celebrate RSC Advances 10th Anniversary over the next few months and we look forward to sharing more articles and activities with you – follow us on Twitter or sign up for RSC Advances news for updates on our anniversary celebrations.
We hope you enjoy our 10th Anniversary collections!
RSC Advances Editorial team
A selection of papers from our reviewers
Naturally occurring phenolic sources: monomers and polymers
Bimlesh Lochab, Swapnil Shukla and Indra K. Varma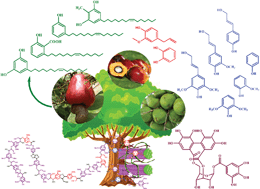 A novel cerium(III)–isatin Schiff base complex: spectrofluorometric and DFT studies and application as a kidney biomarker for ultrasensitive detection of human creatinine
Sheta M. Sheta, Magda A. Akl, Heba E. Saad and El-Sayed R. H. El-Gharkawy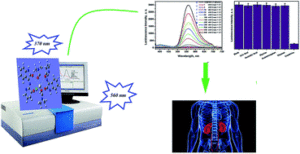 Nanoarchitectonics on living cells
Katsuhiko Ariga and Rawil Fakhrullin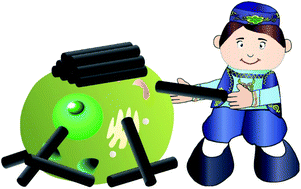 Cotton flame retardancy: state of the art and future perspectives
Jenny Alongi and Giulio Malucelli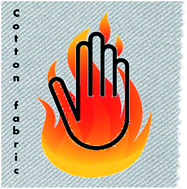 Improvement of polypropylene nonwoven fabric antibacterial properties by the direct fluorination
N. P. Prorokova, V. A. Istratkin, T. Yu. Kumeeva, S. Yu. Vavilova, A. P. Kharitonov and V. M. Bouznik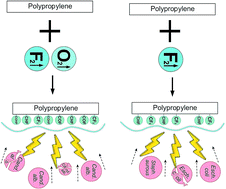 Computational estimation of potential inhibitors from known drugs against the main protease of SARS-CoV-2
Nguyen Minh Tam, Minh Quan Pham, Nguyen Xuan Ha, Pham Cam Nam and Huong Thi Thu Phung

Microporous carbonaceous adsorbents for CO2 separation via selective adsorption
Yunfeng Zhao, Xin Liu and Yu Han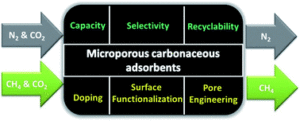 Facile synthesis of porous CuO polyhedron from Cu-based metal organic framework (MOF-199) for electrocatalytic water oxidation
Ting-Ting Li, Jinjie Qian and Yue-Qing Zheng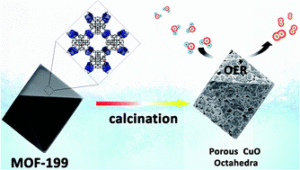 Half-metallicity in new Heusler alloys Mn2ScZ (Z = Si, Ge, Sn)
Mahesh Ram, Atul Saxena, Abeer E. Aly and Amit Shankar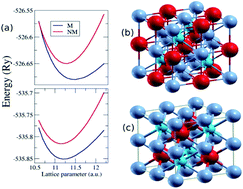 Template synthesis of carbon self-doped g-C3N4 with enhanced visible to near-infrared absorption and photocatalytic performance
Zaiwang Zhao, Yanjuan Sun, Fan Dong, Yuxin Zhang and Han Zhao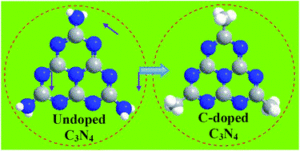 Horseradish peroxidase (HRP) as a tool in green chemistry
Guido R. Lopes, Diana C. G. A. Pinto and Artur M. S. Silva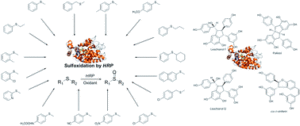 Aqueous solution photocatalytic synthesis of p-anisaldehyde by using graphite-like carbon nitride photocatalysts obtained via the hard-templating route
Raquel A. Fernandes, Maria J. Sampaio, Joaquim L. Faria and Cláudia G. Silva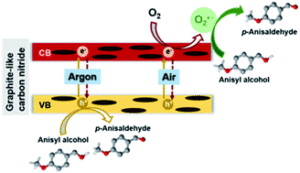 Phthalimide conjugation turns the AIE-active tetraphenylethylene unit non-emissive: its use in turn-on sensing of hydrazine in solution and the solid- and vapour-phase
Sharanabasava D. Hiremath, Ram U. Gawas, Dharmendra Das, Viraj G. Naik, Akhil A. Bhosle, Vishnu Priya Murali, Kaustabh Kumar Maiti, Raghunath Acharya, Mainak Banerjee and Amrita Chatterjee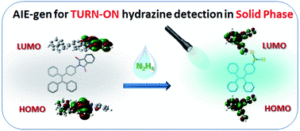 Synthesis of a hierarchical structured NiO/NiS composite catalyst for reduction of 4-nitrophenol and organic dyes
Osman Ahmed Zelekew and Dong-Hau Kuo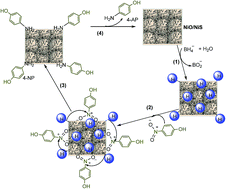 One-pot synthesis of formic acid via hydrolysis–oxidation of potato starch in the presence of cesium salts of heteropoly acid catalysts
Nikolay V. Gromov, Tatiana B. Medvedeva, Yulia A. Rodikova, Dmitrii E. Babushkin, Valentina N. Panchenko, Maria N. Timofeeva, Elena G. Zhizhina, Oxana P. Taran and Valentin N. Parmon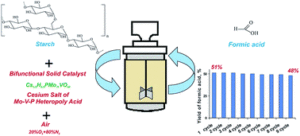 Enhancing the electrochromic response of polyaniline films by the preparation of hybrid materials based on polyaniline, chitosan and organically modified clay
Rosanny C. Silva, Marina V. Sarmento, Fred A. R. Nogueira, Josealdo Tonholo, Roger J. Mortimer, Roselena Faez and Adriana S. Ribeiro

Ambient light induced antibacterial action of curcumin/graphene nanomesh hybrids
Z. M. Marković, D. P. Kepić, D. M. Matijašević, V. B. Pavlović, S. P. Jovanović, N. K. Stanković, D. D. Milivojević, Z. Spitalsky, I. D. Holclajtner-Antunović, D. V. Bajuk-Bogdanović, M. P. Nikšić and B. M. Todorović Marković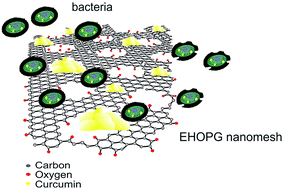 Peripherical thioester functionalization induces J-aggregation in bithiophene-DPP films and nanoparticles
Angela Punzi, Davide Blasi, Alessandra Operamolla, Roberto Comparelli, Gerardo Palazzo and Gianluca M. Farinola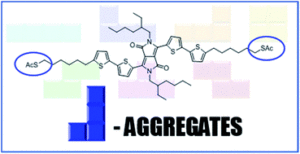 Self-assembly, photoresponsive behavior and transport potential of azobenzene grafted dendronized polymeric amphiphiles
Meena Kumari, Muriel Billamboz, Estelle Leonard, Christophe Len, Christoph Böttcher, Ashok K. Prasad, Rainer Haag and Sunil K. Sharma
Synthesis and characterization of supported stabilized palladium nanoparticles for selective hydrogenation in water at low temperature
Anish Patel and Anjali Patel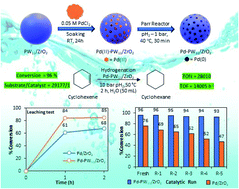 Polyaniline and modified titanate nanowires layer-by-layer plastic electrode for flexible electronic device applications
Mona H. Abdel Rehim, Ahmed M. Youssef, Heba Al-Said, Gamal Turky and Mohamad Aboaly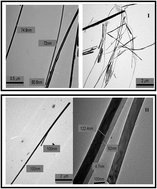 Submit to RSC Advances today! Check out our author guidelines for information on our article types or find out more about the advantages of publishing in a Royal Society of Chemistry journal.
Keep up to date with our latest HOT articles, Reviews, Collections & more by following us on Twitter. You can also keep informed by signing up to our E-Alerts.