On 26th – 27th June 2023, in celebration of Professor Nora de Leeuw's 60th birthday, University College London held a two day symposium including presentations and discussions on recent experimental and theoretical progress in the investigation of mineral-based materials.
RSC Advances were lucky enough to sponsor the event and offer a bursary to an early career researcher from Africa to attend and give an oral presentation at this event.
Foster Mbaiwa is an Associate Professor in Physical Chemistry at Botswana International University of Science and Technology. He completed his PhD on dipole moment effect effects in photodetachment from cluster anions at Washington University, St. Louis in 2011. His research interests surround the production of biodiesel from various feedstocks and catalytic conversion to hydrocarbon fuels using mixed metal oxides, as well as molecular dynamics simulation of industrially important liquid mixtures.
At the conference, Foster presented a "computational study of the decarboxylation of methyl palmitate using NiMoO4 catalyst – towards improving the flow properties of biodiesel".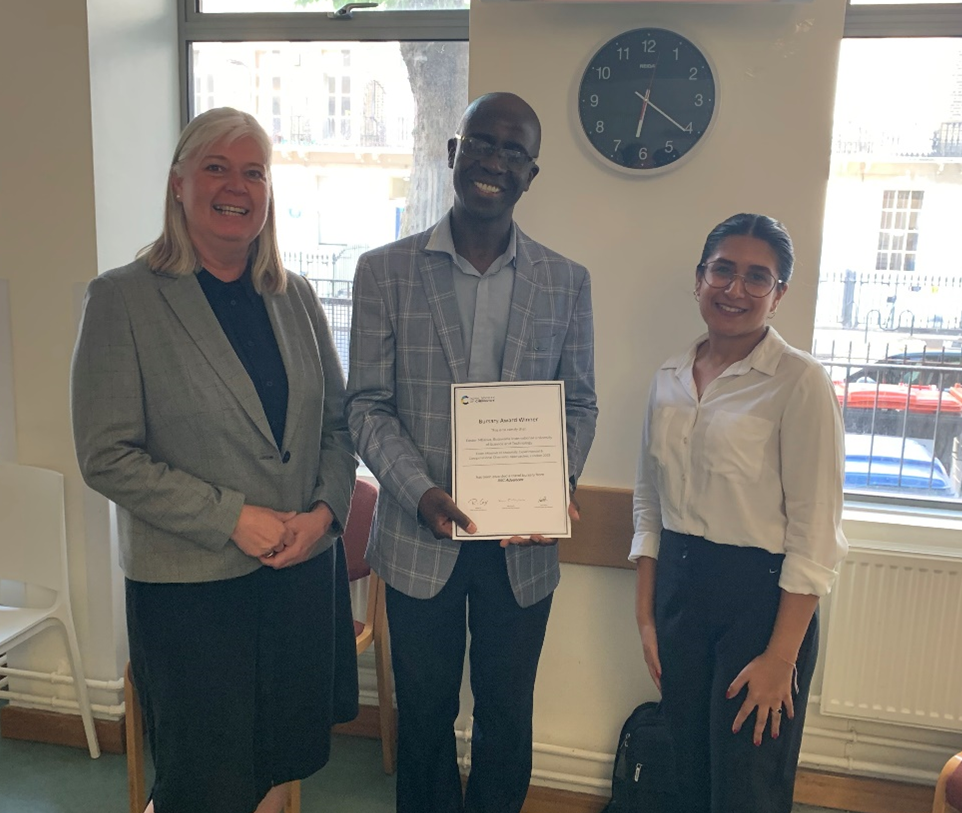 Professor Nora de Leeuw, Associate Professor Foster Mbaiwa and RSC Advances Assistant Editor Namita Datta
Foster told us more about the research and what he hopes to achieve in the future. He gave some advice for early career researchers and his thoughts on open access publishing.
What is the focus of your research and why it is of current interest?
The focus of this research is to improve the flow properties of biodiesel. Essentially, we want to make sure that biodiesel is similar to fossil fuel so that it doesn't harm the engine. There are many ways you can do this, for example, mixing the fuel so that it is 90% diesel and 10% biodiesel. Or you can change the chemical structure and composition of biodiesel, so it is closer to diesel. We can use a catalyst to convert the biodiesel in the hopes of creating a cleaner, more available diesel, thus reducing the demand for fossil fuel. The focus of this study is finding a catalyst that is able to do that without producing small chain hydrocarbons – we want to improve the catalytic selectivity.
What are the key design considerations for your study?
It is important that the catalyst is safe and environmentally friendly. The catalyst should reduce the energy demand on the whole process. We must also consider the recyclability of the catalyst. Of course, we must consider affordability too – catalyst with metal centres (such as copper) are cheaper.
Which part of the research proved to be the most challenging?
The surface selection. Selecting a surface with all the right properties can be challenging. If you don't choose the right surface, the catalyst can be too reactive.
To go about this, we started with the current catalysts that are used. Currently, the active centre used is nickel – it is easily attainable as it a by-product of a copper mine in Botswana. Understanding these surfaces allowed us to suggest improvements.
What aspect of the work are you most excited about?
The application of reactive molecular dynamics to catalysis – using computational chemistry to map reactions and visualise new structures. Although new to me, this field has been around for a long time and has proven to be highly effective.
How has your research evolved from your first article to this particular article? What do you have planned next?
I actually completed my PhD in the United States on the photoelectron spectroscopy of anions. When I moved back home there wasn't as much funding for laboratory work, so I changed direction to computing. I had support from the Centre for High-Performance Computing and I managed to adapt.
Hopefully, funding permitting, I can move from the computer back to the lab to design catalysts based on what's been discovered through the simulations. The aim is to perfect a catalyst for the decarboxylation of methyl esters into green diesel.
In the future, through collaboration, I would like to return to spectroscopy. For instance, exploring computational chemistry in the direction of spectroscopy. Combining mass spectrometry of anions with theoretical calculations could be really interesting in terms of astrophysics. One idea I'm interested in is the application of theoretical mass spectrometry in studying ions which can only occur under extreme conditions, hence difficultly to study this experimentally.
What advice would you give to students and early career researchers in a similar situation to yourself?
PhD students – talk to people! The more you network the more you'll realise you're not the only person with problems. The chances are you will find someone who can help you. Make sure to really think about the research you're doing now because it might be the defining research of your life. Could you see yourself doing this forever? If not, that's okay! You can always change direction, it is one of the freedoms of life.
Early career researchers – don't run away from your mentors too quickly. There will always be someone with more experience than you – learn from them.
What are some of the challenges you have faced as a researcher working in Botswana and what positive progress have you seen throughout your career so far?
Laboratory resources are limited and even with computational chemistry you need high computational power. The Centre for High Performance Computing is great but a lot of researchers in Africa rely on it – it's a limited resource. Computational chemistry is not taught here because we simply don't have the resources. However, throughout my career I've seen a lot of great students who are willing to take on the challenge and learn on the fly.
Do you have any recommendations for improving the STEM workforce to create an environment that better supports researchers from lower- and middle-income countries? Is there anything publishers such as the RSC can do to help?
Following on from my previous answer, it would be great to see publishers such as the RSC provide funding for students to learn computational science. We have benefited from this in the past and it contributes to the positive progress we've made. The computational chemistry society is very supportive and helps create a great network for researchers in Africa and the UK.
Finally, what are your thoughts on open access publishing?
As a researcher, and end user of published research, open access is the best! It allows for easy access to papers – it's like gold! In that regard it helps a lot of researchers from poorly funded universities and institutions.*
However, at the same time, there is the idea that open access is motivated by money rather than research. The pressure to publish is very much there, and there's a belief that "predatory" open access journals benefit from this. Also, from a university management perspective, there's this idea that papers in open access journals are generally of lower quality – this might be because the reviewing process often leaves something to be desired.
My advice to researchers would be to avoid these "predatory" journals. My advice to publishers would be to ensure that peer review is rigorous and so does not tarnish the benefits of open access.**
Anything else to note?
I would like to thank RSC Advances for this opportunity – I am very grateful.
*RSC's journals provide APC waivers for authors from low and middle income countries, in line with the Research4Life programme.
**RSC Advances has recently introduced Transparent Peer Review (TPR) as an option for authors. TPR is where the reviewer reports, authors' response to reviewers, and decision letters are published alongside the manuscript. A top priority for the journal is to ensure rigorous and high-quality peer review, so by offering TPR we hope to ensure transparency around the peer review process, offering our readers a chance to understand the scientific discussions behind an accepted article. Please see here for more information on TPR.


Submit to RSC Advances today! Check out our author guidelines for information on our article types or find out more about the advantages of publishing in a Royal Society of Chemistry journal.
Keep up to date with our latest Popular Advances, Reviews, Collections & more by following us on Twitter. You can also keep informed by signing up to our E-Alerts.