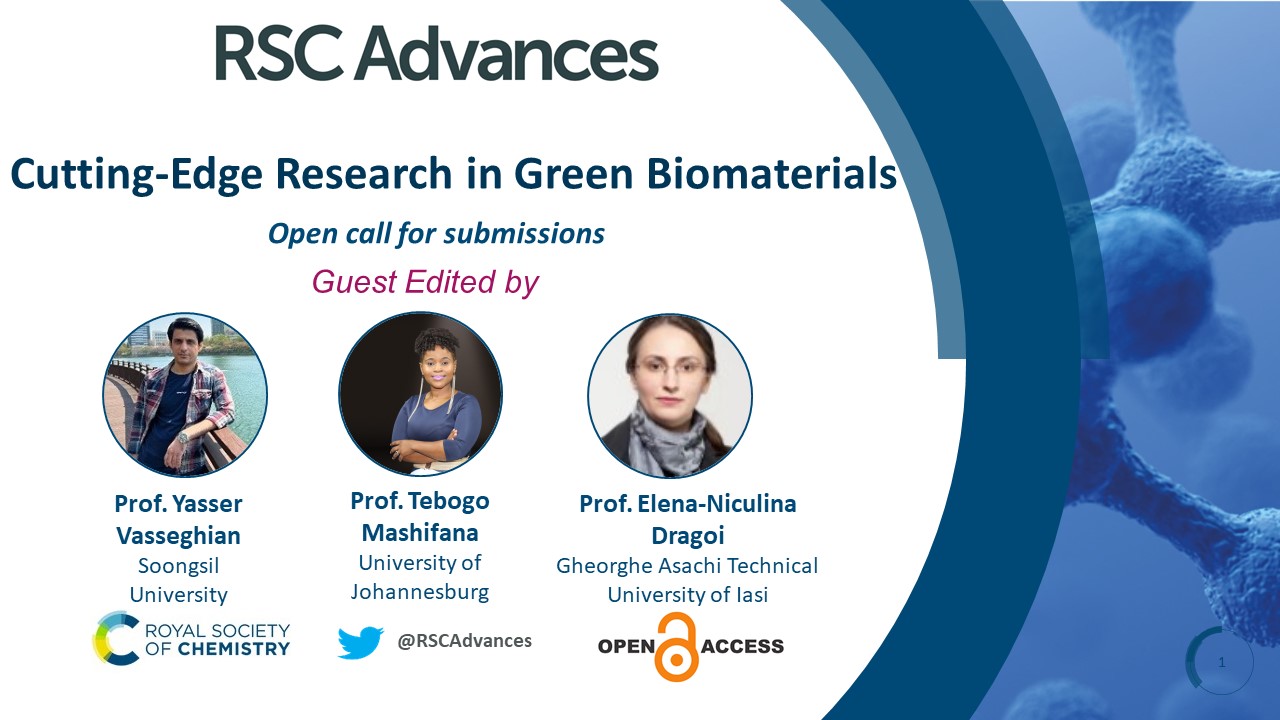 RSC Advances (Royal Society of Chemistry) is delighted to announce a new themed collection on Cutting-Edge Research in Green Biomaterials. This collection is Guest Edited by Prof. Yasser Vasseghian, Soongsil University, Prof. Tebogo Mashifana, University of Johannesburg and Prof. Elena-Niculina Dragoi, Gheorghe Asachi Technical University of Iasi.
This themed collection aims to showcase the latest advancements in the field of green biomaterials and their diverse applications in various domains, including environmental, energy, biomedical, agricultural, and biotechnological sectors. The collection will feature original research articles and reviews on the development and utilization of eco-friendly biomaterials for sustainable solutions. The collection encourages researchers, scientists, engineers, and professionals working in the field of biomaterials, environmental science, energy, biomedical, agriculture, and related disciplines to present their latest research results on below specific topics (but not limited to):
Green biomaterials for wide array of uses in sustainable environmental
Eco-friendly biomaterials for environmental remediation and pollution control
Green biomaterials for water purification and resource conservation
Harnessing green biomaterials for renewable energy generation and storage
Green biomaterials for bioenergy production
Green biomaterials for biological applications: From agriculture to biotechnology
Sustainable solutions with green biomaterials for agriculture and food industry
Biodegradable green biomaterials for sustainable packaging
Bio-based composites, nanomaterials, and electrochemical devices
Bioinspired green biomaterials for advanced therapeutics, diagnostics, and biosensors
Advances in green biomaterials for biomedical implants and tissue engineering
Sustainable nanocomposites with green biomaterials: synthesis, properties, and applications
Biodegradable polymers for wide-ranging uses
We welcome your submission to the series.
Submission deadline 29 December 2023
How to submit
Both Papers and Review articles will be considered for this collection. All submissions will be subject to an initial assessment by Associate Editors and, if suitable for the journal, they will be subject to rigorous peer review to meet the usual high standards of RSC Advances.
Our APC is among the lowest in the industry and there are no submission charges. Discounts and waivers are offered to authors from developing countries.
If you would like to submit to this issue the manuscript should be prepared according to our article guidelines and submitted via our online system anytime before the submission deadline of 29th of December 2023. During submission, authors will be asked if they are submitting for a themed collection and should include the name of the themed collection. If you would like to submit but require additional time to prepare your article, please do let us know by contacting the journal.

Submit to RSC Advances today! Check out our author guidelines for information on our article types or find out more about the advantages of publishing in a Royal Society of Chemistry journal.
Keep up to date with our latest Popular Advances, Reviews, Collections & more by following us on Twitter. You can also keep informed by signing up to our E-Alerts.