RSC Advances is delighted to present this themed collection titled 'Nanomaterials in drug delivery'. This collection explores the latest developments in the design, preparation, and application of nanomaterials for drug delivery, understanding bio-nano interactions and biosystem parameters, assessing the safety of nanomedicine, and the potential limitations of nanomedicine fabrication including technical and legal aspects.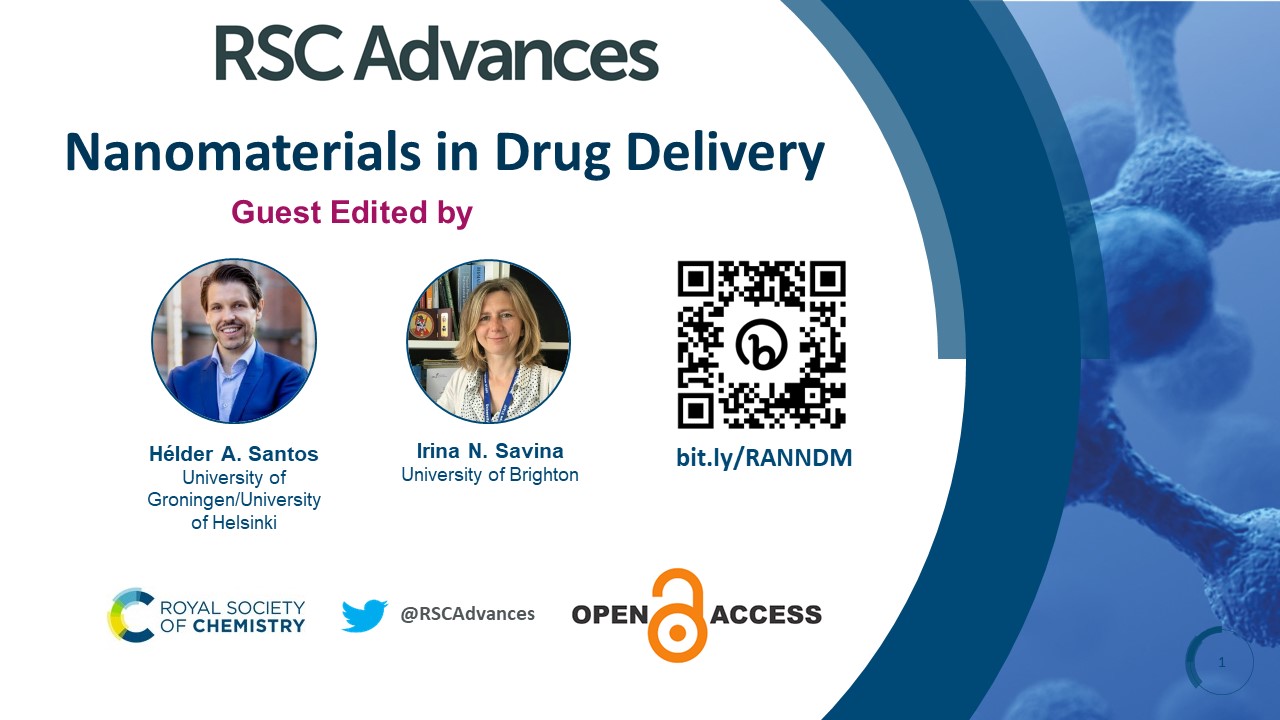 This collection has been Guest Edited by Dr Irina N. Savina (University of Brighton) and Professor Hélder A. Santos (University of Helsinki & University of Groningen). They provide an overview of the collection in this accompanying Editorial.
A selection of articles have been highlighted below, and you can view the full collection here.
Exosome-based drug delivery systems and their therapeutic applications
Jaewook Lee, Ji-Heon Lee, Kushal Chakraborty, Joon Hwang and Yong-Kyu Lee
RSC Adv., 2022, 12, 18475-18492
Functional block copolymer micelles based on poly (jasmine lactone) for improving the loading efficiency of weakly basic drugs
Aliaa Ali, Rajendra Bhadane, Afshin Ansari Asl, Carl-Eric Wilén, Outi Salo-Ahen, Jessica M. Rosenholm and Kuldeep K. Bansal
RSC Adv., 2022, 12, 26763-26775
Facile production of quercetin nanoparticles using 3D printed centrifugal flow reactors
Davide De Grandi, Alireza Meghdadi, Gareth LuTheryn and Dario Carugo
RSC Adv., 2022, 12, 20696-20713
We welcome you to contribute to this collection. Please contact the Editorial Office to highlight your interest in submitting to this collection.

Submit to RSC Advances today! Check out our author guidelines for information on our article types or find out more about the advantages of publishing in a Royal Society of Chemistry journal.
Keep up to date with our latest Popular Advances, Reviews, Collections & more by following us on Twitter. You can also keep informed by signing up to our E-Alerts.