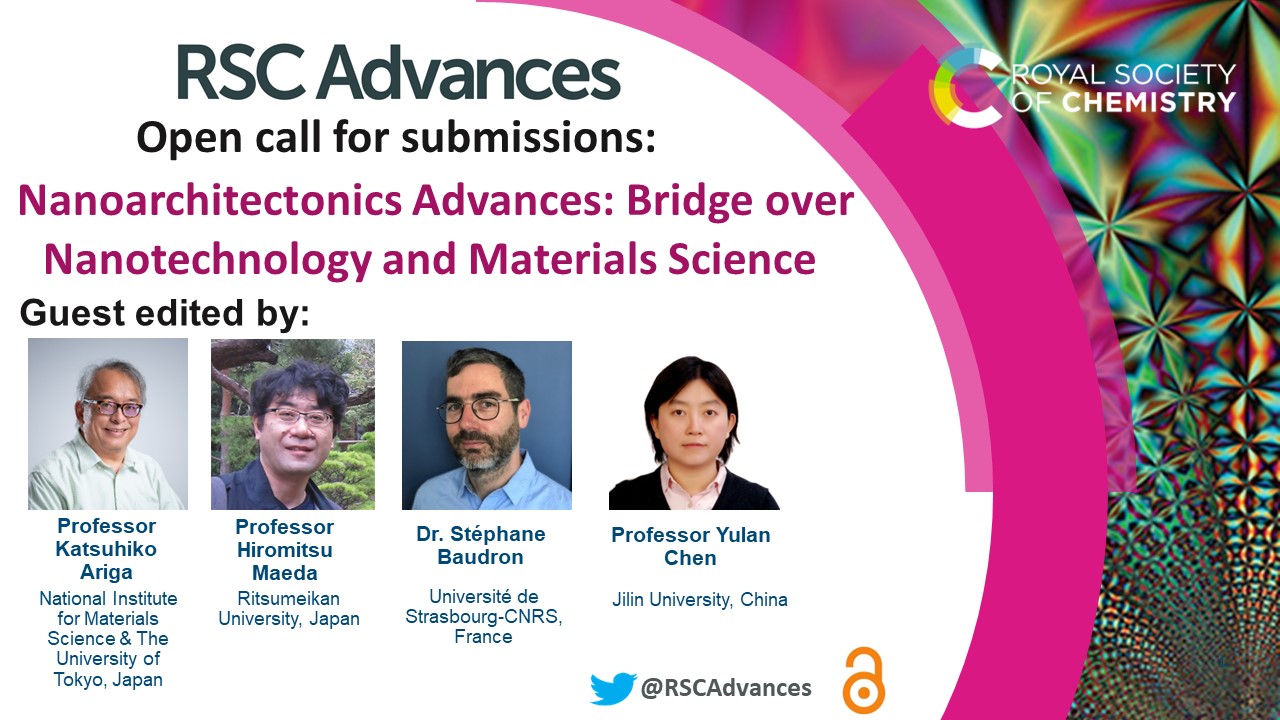 RSC Advances is delighted to announce a new themed collection titled 'Nanoarchitectonics Advances: Bridge over Nanotechnology and Materials Science'. This collection is Guest Edited by Katsuhiko Ariga (National Institute for Materials Science & The University of Tokyo, Japan), Hiromitsu Maeda (Ritsumeikan University, Japan), Stéphane Baudron (Université de Strasbourg-CNRS, France), and Yulan Chen (Jilin University, China).
Scope
Expanding and going beyond the field of nanotechnology, a new concept of nanoarchitectonics has been proposed. Nanoarchitectonics aims to construct materials with precise structures that achieve high performance from nanoscale units such as atoms, molecules, and nanomaterials. Beyond the well-known strategies of self-assembly and related strategies, nanoarchitectonics aims to construct material structures containing more asymmetric and hierarchical motifs from multiple components. Nanoarchitectonics bridges the missing link between nanotechnology and materials science. The impact of nanoarchitectonics goes beyond fabricating such structures to developing nanostructured materials useful for sensing, catalysis, energy, environmental, and biomedical applications.
Such attempts have in fact been widely studied but should be reconstructed under the name of nanoarchitectonics as a link between nanotechnology and materials science. This special issue will encompass the development of various functions enabled by this bottom-up approach to structure development. Examples of possible targets include:
1) Supramolecular assemblies and self-assemblies
2) Coordination nanostructures such as MOFs
3) Hybrids, composites, and blends that exhibit nanostructures and functions
4) Various other functional materials that include nanostructures
5) Sensing, catalytic, energy, environmental, biomedical and other applications
This special issue should not only describe conventional approaches, but also how the research relates to nanoarchitectonics.
Please make sure that your submission provides an insight that advances the chemistry field or is of interest to the chemistry community.
How to submit
Both Papers and Review articles will be considered for this issue. All submissions will be subject to an initial assessment by Associate Editors and, if suitable for the journal, they will be subject to rigorous peer review to meet the usual high standards of RSC Advances.
Our APC is among the lowest in the industry and there are no submission charges. Discounts and waivers are offered to authors from developing countries.
If you would like to submit to this issue the manuscript should be prepared according to our article guidelines and submitted via our online system anytime before the submission deadline of 30 July 2023. During submission, authors will be asked if they are submitting for a themed collection and should include the name of the themed collection. If you would like to submit but require additional time to prepare your article, please do let us know by contacting the journal.

Submit to RSC Advances today! Check out our author guidelines for information on our article types or find out more about the advantages of publishing in a Royal Society of Chemistry journal.
Keep up to date with our latest Popular Advances, Reviews, Collections & more by following us on Twitter. You can also keep informed by signing up to our E-Alerts.