We are very pleased to introduce Dr Abdu Saeed who is the corresponding author of the RSC Advances article, antibacterial activity of the micro and nanostructures of the optical material tris(8-hydroxyquinoline)aluminum and its application as an antimicrobial coating. This was well received by reviewers and was handpicked by our handling editors to be part of our Popular Advances collection – a big congratulations to all the authors!
Dr Saeed told us more about the work that went into this study and what he hopes to achieve in the future. You can explore other articles in our 2022 Popular Advances online collection here!
Meet the Author: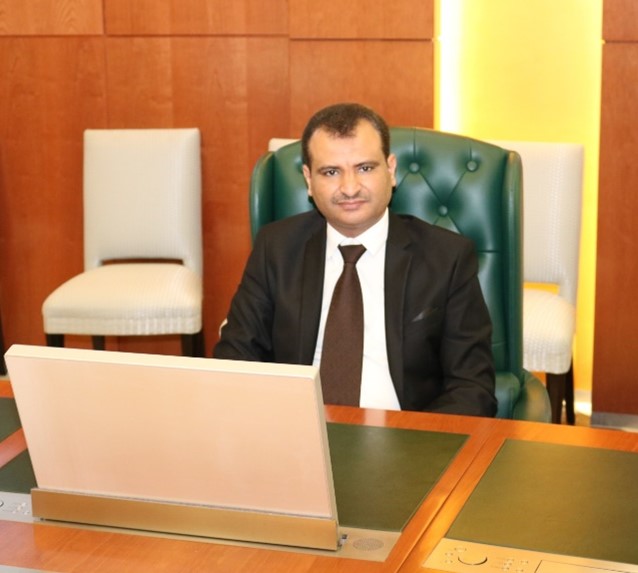 Abdu Saeed was born in Ibb, Yemen, in 1979. After obtaining two degrees in physics (from Ibb University and Taiz University, respectively) he was selected as a teaching assistant at Thamar University. Afterwards, he pursued an MSc and PhD in applied experimental physics at King Abdulaziz University, Saudia Arabia, where he was selected as the best postgraduate student! Nowadays, Dr Saeed works in multidisciplinary fields including energy, electrical properties, nanotechnology, and polymer science. Currently, Dr Saeed and his group are studying the bio applications of the optical material tris(8-hydroxyquinoline)aluminum.
Could you briefly explain the focus of your article to the non-specialist and why it is of current interest?
This research focuses mainly on estimating the antibacterial activity of Alq3, but the effect of particle size (micro- and nano- structures) of the Alq3 powders was also investigated. Furthermore, we successfully incorporated this material with polystyrene to form an antibacterial composite for coating purposes.
How big an impact could your results potentially have?
Alq3 is one of the most famous small molecular semiconductors with efficient electroluminescence and fluorescence properties. Since this material was used to manufacture the first OLED, it has been utilized massively in fabricating optoelectrical devices. However, it has not been used in bio applications. Therefore, we think use as an antibacterial coating could bring more interest to Alq3 in bio applications. 
Could you explain the motivation behind this study?
I was studying the toxicity of this material and found two things: Firstly, this material has high toxicity and, when used as a dye for fluorescence bioimaging, the captured images had high fluorescence. These results gave the motivation to utilize this material in new bio applications. Secondly, we spent three months overcoming bacterial contamination in the lab while doing the cell viability experiments. These two things motivated us to study whether Alq3 can be used as an antibacterial agent.
In your opinion, what are the key design considerations for your study?
Alq3 is an attractive and exciting material. It has different crystal structures, and it is considered the most popular organometallic semiconductor in OLED. Its molecular structure has a conjugated π-electron system, which is advantageous for many applications. This material has electroluminescence (EL) and photoluminescence (PL) properties. EL properties make it an excellent material for optoelectronics devices; PL properties make it a good material for optical applications. Its diverse properties and current applications make it an excellent candidate for more investigations into new applications.
Which part of the work towards this paper proved to be most challenging?
We tested the antibacterial activity of the Alq3 samples on seven different human pathogenic bacterial strains representing Gram-positive and Gram-negative bacteria: Escherichia coli ATCC 11775 (EC), Enterococcus faecalis ATCC 29212 (EF), Klebsiella pneumoniae ATCC 13883 (KP), Methicillin-resistant Staphylococcus aureus ATCC 33591 (MRSA), Pseudomonas aeruginosa ATCC 9027 (PA), Staphylococcus aureus ATCC 12600 (SA), and Salmonella Typhimurium ATCC 14028 (ST). Estimating the IC50 for this material against the bacterial strains was the most challenging part of this study.
What aspect of your work are you most excited about at the moment?
We are most excited about using Alq3 in biosensor applications, particularly in bioimaging. We believe that it will be interesting to make modifications, such as using an appropriate material as a surface modifier containing optimized ligands to synthesize Alq3 into a core-shell form. This could further reduce Alq3's toxicity whilst maintaining its impressive fluorescence.
What is the next step? What work is planned?
We will use what we have achieved to identify and obtain further uses for Alq3. We will study its antifungal activity and incorporate it with suitable polymers for its antifungal tests. Additionally, we hope to check its interaction with different viruses. The first use of Alq3 for bioimaging was by us – we believe there is still much more effort to be made to optimize the use of Alq3 in bioimaging. 
Antibacterial activity of the micro and nanostructures of the optical material tris(8-hydroxyquinoline)aluminum and its application as an antimicrobial coating
Abdu Saeed, Aysh Y. Madkhli, Rami Adel Pashameah, Noor M. Bataweel, Mir Ali Razvi and Numan Salah
Submit to RSC Advances today! Check out our author guidelines for information on our article types or find out more about the advantages of publishing in a Royal Society of Chemistry journal.
Keep up to date with our latest Popular Advances, Reviews, Collections & more by following us on Twitter. You can also keep informed by signing up to our E-Alerts.