We are excited to introduce Dr James Knight, who is the corresponding author of the RSC Advances article, The influence of degree of labelling upon cellular internalisation of antibody-cell penetrating peptide conjugates. The manuscript was well received by reviewers and was handpicked by our handling editors to be part of our Popular Advances collection.
Dr Knight told us more about the work that went into this paper and what he hopes to achieve in the future. You can explore other articles in our 2022 Popular Advances online collection here!
Meet the Author: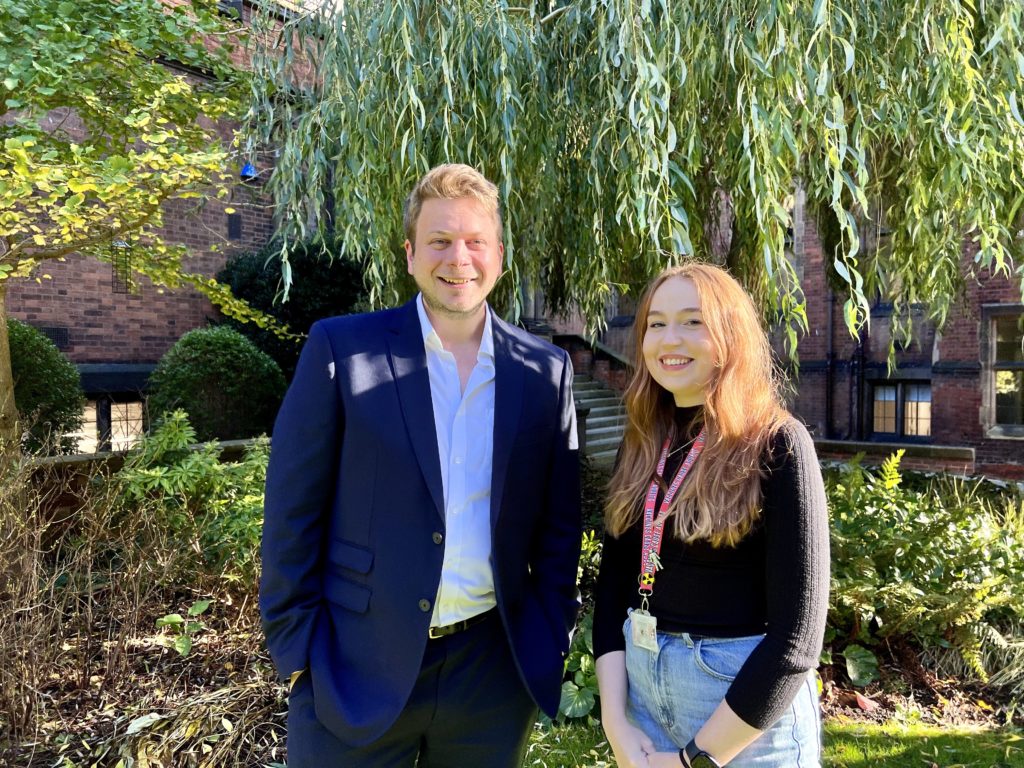 Dr James Knight is lecturer in radiochemistry at the School of Natural and Environmental Sciences at Newcastle University. His research surrounds the synthesis and preclinical evaluation of radiopharmaceuticals for imaging and therapeutic applications. Additionally, he is the Degree Programme Director for MSc Drug Chemistry and the lead for radiochemistry within the Discovery of Medicines research theme in the Faculty of Medical Sciences. Interestingly, he also recently co-authored two textbooks on click chemistry and its role in radiochemistry!
The first author, Toni Pringle, is a PhD student who led the research in this paper!
Could you briefly explain the focus of your article to the non-specialist and why it is of current interest?
In the present era of precision medicine, antibodies have emerged as an important class of highly target-specific therapeutic drugs, particularly in oncology, yet their inefficient cellular internalisation limits their scope of application to disease targets situated on the exterior side of the cell membrane. This article is based on research led by PhD student Toni Pringle who modified Herceptin (an antibody used to treat HER2-positive breast and gastric cancers) with a peptide that confers cell-penetrating properties and examined how the extent of this modification affected the uptake of Herceptin in human breast cancer cells, resulting in data that advances our understanding of the cell-internalising properties of these constructs.
How big an impact could your results potentially have?
The results of our study shine a light on the significant influence of a fundamental molecular design parameter – the degree of cell-penetrating peptide labelling. Notably, we found that a radiolabelled analogue of Herceptin modified with five cell-penetrating peptides had uptake in HER2-expressing cells 14.7-fold higher after 48 hours compared to an equivalent analogue with no peptide modification. The scale of this enhancement is exciting when you consider its implications for enhancing the therapeutic index of antibody-drug conjugates, as well as its potential to expand the scope of antibody-based positron emission tomography imaging agents to include disease biomarkers located in the intracellular environment.
Could you explain the motivation behind this study?
The main focus of our research is the development of radiopharmaceuticals that can be used as imaging and/or therapeutic agents for cancer. We are particularly interested in radiopharmaceuticals based on antibody-cell penetrating peptide conjugates (Ab-CPPs) and our motivation in this case was to understand the extent to which cellular internalisation of cancer target-specific Ab-CPP is affected by the degree of peptide labelling. Our group is keen to expand in this area and we felt it was crucial to get a firm handle on this important parameter.
In your opinion, what are the key design considerations for your study?
To allow us to determine the degree of peptide labelling, we decided to use a bioconjugation strategy based on strain-promoted alkyne-azide cycloaddition as this provided a convenient way to measure this parameter by depletion of the alkyne absorbance in the UV region. We also had to think carefully about how to approach the cell-based assays which were fairly complex due to the need to consider several factors, such as the specific activity of the radiolabelled Ab-CPPs, cell numbers and how these would change over the course of the experiment (and how to account for this), the sensitivity of the gamma counter, and of course, radio-protection measures at each stage etc. I must say that Toni did a fabulous job here in the planning and implementation of these experiments.
Which part of the work towards this paper proved to be most challenging?
Working with radioisotopes can be challenging as the agents we put so much effort into making are continually and irretrievably disappearing from the moment we make them! As a result, we have to plan our work very carefully, and often this involves coordinating the activities of several people!
What aspect of your work are you most excited about at the moment?
Radiochemistry and imaging at Newcastle University is thriving and enjoying a period of expansion. The imminent opening of our radiopharmaceutical GMP suite will grant us the ability to readily translate our probes into the clinic, and we have a dedicated network of academics and clinicians supporting us in this endeavour. For me, this is an incredibly exciting prospect!
What is the next step? What work is planned?
We're taking this forward in two ways. First, we are applying this approach to antibody-drug conjugates to examine the influence of DOL upon therapeutic efficacy in target cell populations. Second, we are developing PET radioligands based on Ab-CPPs to target intracellular biomarkers that arise early in the development of pancreatic cancer to facilitate early detection. In each case, we are applying new, improved cell penetrating peptides. We are looking forward to sharing the results of these investigations soon!
The influence of degree of labelling upon cellular internalisation of antibody-cell penetrating peptide conjugates.
Submit to RSC Advances today! Check out our author guidelines for information on our article types or find out more about the advantages of publishing in a Royal Society of Chemistry journal.
Keep up to date with our latest Popular Advances, Reviews, Collections & more by following us on Twitter. You can also keep informed by signing up to our E-Alerts.