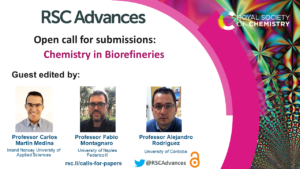 RSC Advances is delighted to announce a new themed collection titled 'Chemistry in Biorefineries'. This collection is Guest Edited by Professor Alejandro Rodríguez Pascual (Universidad de Cordoba), Professor Carlos Martín Medina (Inland Norway University of Applied Sciences) and Professor Fabio Montagnaro (University of Naples Federico II).
Scope
The non-renewable nature of fossil fuels makes the current economic model unsustainable. The biorefinery concept, which takes traditional refineries as a starting point and adapts them to environmentally friendly processes based on bioresources as raw materials, has attracted the interest of a large number of scientists. Recent sustainable mobility outlooks indicate that electrification will coexist for a long time with combustion-based propulsion, thus entrusting biorefinery processes and the production of advanced biofuels with increasing importance.
Achieving a sustainable production of bio-based fuels, chemicals and materials requires a deep understanding of the chemistry behind biorefining processes. In this themed collection, we would like to invite researchers to submit original research papers directed to deepen the current knowledge of chemistry in biorefinery. Potential topics include:
New raw materials, analysis and characterization of biomass
Chemistry of pre-treatment and/or fractionation processes
Catalytic and biocatalytic conversion to biofuels, platform chemicals and fine chemicals
Thermal processes for the conversion of biomass into biofuels
Clean technologies
Biobased polymers; natural fiber-based polymeric composites
Lignonanocellulose and nanocellulose chemistry
New industrial experiences
LCA
Food applications of lignocellulose-derived products
How to Submit
Both Papers and Review articles will be considered for this issue. All submissions will be subject to an initial assessment by Associate Editors and, if suitable for the journal, they will be subject to rigorous peer review to meet the usual high standards of RSC Advances.
Our APC is among the lowest in the industry and there are no submission charges. Discounts and waivers are offered to authors from developing countries.
If you would like to submit to this issue the manuscript should be prepared according to our article guidelines and submitted via our online system anytime before the submission deadline of 30 November 2022. During submission, authors will be asked if they are submitting for a themed collection and should include the name of the themed collection. If you would like to submit but require additional time to prepare your article, please do let us know by contacting the journal.

Submit to RSC Advances today! Check out our author guidelines for information on our article types or find out more about the advantages of publishing in a Royal Society of Chemistry journal.
Keep up to date with our latest Popular Advances, Reviews, Collections & more by following us on Twitter. You can also keep informed by signing up to our E-Alerts.