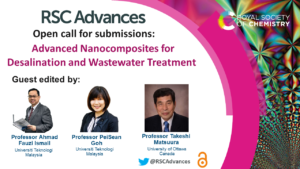 RSC Advances is delighted to announce a new themed collection titled 'Advanced Nanocomposites for Desalination and Wastewater Treatment'. This collection is Guest Edited by Professor Ahmad Fauzi Ismail (Universiti Teknologi Malaysia), Professor PeiSean Goh (Universiti Teknologi Malaysia), Professor Takeshi Matsuura (University of Ottawa, Canada).
Scope
Wastewater treatment and desalination have long served as viable options to provide safe drinking water and to reduce the environmental impact of human activities. Over the past decades, extensive works have been dedicated to the development of advanced functional materials that show enhanced physicochemical properties for applications in desalination and wastewater treatment. Currently, advanced nanocomposite materials are at the forefront of this research. Through the combination of two or more nanomaterials, synergistic effects can be achieved to augment the performances of a broad range of materials. These nanocomposite materials are bestowed with astonishing characteristics such as high hydrophilicity, high surface area, richness in surface functionalities, fast transport, and high selectivity. This special issue aims to collect and compile research articles and reviews focusing on the development of advanced nanocomposite materials for water and wastewater treatment.
Topics include but are not limited to the following:
Advanced materials for wastewater treatment and desalination
Synthesis of green nanomaterials
Advanced nanocomposites from waste resources
Nanocomposite modification and functionalization
Computational studies of nanocomposite materials
Life-cycle analysis of nanocomposite materials
How to submit
Both Papers and Review articles will be considered for this issue. All submissions will be subject to an initial assessment by Associate Editors and, if suitable for the journal, they will be subject to rigorous peer review to meet the usual high standards of RSC Advances.
Our APC is among the lowest in the industry and there are no submission charges. Discounts and waivers are offered to authors from developing countries.
If you would like to submit to this issue the manuscript should be prepared according to our article guidelines and submitted via our online system anytime before the submission deadline of 30 November 2022. During submission, authors will be asked if they are submitting for a themed collection and should include the name of the themed collection. If you would like to submit but require additional time to prepare your article, please do let us know by contacting the journal.

Submit to RSC Advances today! Check out our author guidelines for information on our article types or find out more about the advantages of publishing in a Royal Society of Chemistry journal.
Keep up to date with our latest Popular Advances, Reviews, Collections & more by following us on Twitter. You can also keep informed by signing up to our E-Alerts.