Jiangshui Luo et al. at Sichuan University have published an interesting research article investigating the mesophase, usually referred to as the plastic crystalline state.
Phase transitions of the molecular plastic crystal neopentyl glycol were studied using permittivity and conductivity data, via the variable-temperature broadband dielectric spectroscopy.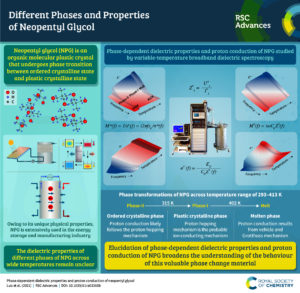 Find out more in the open access article:
"Phase-dependent dielectric properties and proton conduction of neopentyl glycol"
Jiangshui Luo et al. RSC Adv., 2021, 11, 23228-23234 DOI:10.1039/D1RA03366B
Tweet about it here!