We are delighted to welcome Dr P. Sujatha Devi to the RSC Advances team!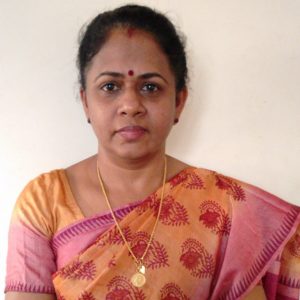 Dr. P. Sujatha Devi received her Ph.D in Chemistry from the Inorganic and Physical Chemistry department,  Indian Institute of Science, Bangalore in 1991. Dr. Devi has made outstanding research contributions in frontier and diverse areas of solid state chemistry, spanning from material synthesis, surface functionalization and characterization through to application and device development.  Dr. Devi's main research contributions are essentially in the synthesis, processing and study of the properties of functional materials, alongside assessment of their structure-property correlations.
Her contributions in processing and characterization of functional nanomaterials for applications ranging from fuel cell, dye sensitized solar cell, chemical and biosensors and drug delivery are noteworthy.
She is currently Chief Scientist and was heading the Chemical Sciences and Technology Division at CSIR-National Institute for Interdisciplinary Science and Technology, Thiruvananthapuram, Kerala, India prior to taking up this position.
She was Editor of the Taylor & Francis Journal Transactions of the Indian Ceramic Society from 2015 to 2018. She is also very active in contributing to the enhancement of science in the society through being a member of the Executive Council of the major scientific societies in India, CRSI and MRSI.
P. Sujatha was elected as a Fellow of the RSC in 2017, and was featured in the cross journal themed collection Celebrating Excellence in Research: 100 Women of Chemistry.
Browse a selection of P. Sujatha's RSC publications: 
Redistribution of native defects and photoconductivity in ZnO under pressure
Partha Pratim Das, Sudeshna Samanta, Lin Wang, Jaeyong Kim, Thomas Vogt, P. Sujatha Devi and Yongjae Lee
RSC Adv., 2019, 9, 4303-4313
DOI: 10.1039/C8RA10219H
Water soluble blue-emitting AuAg alloy nanoparticles and fluorescent solid platforms for removal of dyes from water
Srikrishna Pramanik, Arindam Saha and Parukuttyamma Sujatha Devi
RSC Adv., 2015, 5, 33946-33954
DOI: 10.1039/C4RA14176H
Frequency dependent energy storage and dielectric performance of Ba–Zr Co-doped BiFeO3 loaded PVDF based mechanical energy harvesters: effect of corona poling
Abhishek Sasmal, Shrabanee Sen and P. Sujatha Devi
Soft Matter, 2020, 16, 8492-8505
DOI: 10.1039/D0SM01031F
Role of suppressed oxygen vacancies in the BiFeO3 nanofiller to improve the polar phase and multifunctional performance of poly(vinylidene fluoride)
Abhishek Sasmal, Shrabanee Sen and P. Sujatha Devi
Phys. Chem. Chem. Phys., 2019, 21, 5974-5988
DOI: 10.1039/C8CP07281G


Submit your research or reviews to P. Sujatha, she will be delighted to receive them! See our author guidelines for information on our article types or find out more about the advantages of publishing in a Royal Society of Chemistry journal.
Keep up to date with our latest HOT articles, Reviews, Collections & more by following us on Twitter. You can also keep informed by signing up to our E-Alerts.