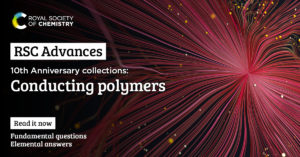 Looking back over the last 10 years, we would like to share with you some of the very best articles that have been published in RSC Advances. Many of these papers have been cited hundreds of times, providing valuable advances for further research, and some continue to be among the journal's most downloaded articles as of today. Over the years, new findings in chemistry have been published in the journal but there are also high quality reviews – they truly are gifts between researchers serving as valuable sources of information for anyone needing an update or is new to a field.
Do you have a great idea for a review? Will you be the author of our next historical paper? Please share it with the world, we welcome work in every area of the chemical sciences and related disciplines – free to read and access for everyone who needs it.
We hope you enjoy our 10th Anniversary collections!
RSC Advances Editorial team
Highlighted articles
Electrically conductive polymers and composites for biomedical applications
Gagan Kaur, Raju Adhikari, Peter Cass, Mark Bown and Pathiraja Gunatillake
Review, 2015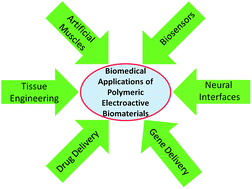 The intrinsic volumetric capacitance of conducting polymers: pseudo-capacitors or double-layer supercapacitors?
Ihor Sahalianov, Sandeep Kumar Singh, Klas Tybrandt, Magnus Berggren and Igor Zozoulenko
Article, 2019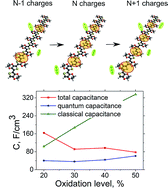 Conducting polymers: a comprehensive review on recent advances in synthesis, properties and applications
Namsheer K and Chandra Sekhar Rout
Review, 2021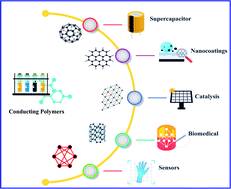 Enhancement of thermoelectric performance of PEDOT:PSS films by post-treatment with a superacid
Xizu Wang, Aung Ko Ko Kyaw, Cailiu Yin, Fei Wang, Qiang Zhu, Tao Tang, Phang In Yee and Jianwei Xu
Article, 2018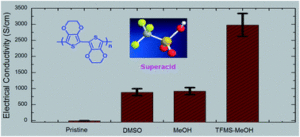 Submit to RSC Advances today! Check out our author guidelines for information on our article types or find out more about the advantages of publishing in a Royal Society of Chemistry journal.
Keep up to date with our latest HOT articles, Reviews, Collections & more by following us on Twitter. You can also keep informed by signing up to our E-Alerts.