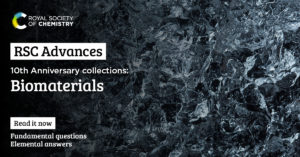 Looking back over the last 10 years, we would like to share with you some of the very best articles that have been published in RSC Advances. Many of these papers have been cited hundreds of times, providing valuable advances for further research, and some continue to be among the journal's most downloaded articles as of today. Over the years, new findings in chemistry have been published in the journal but there are also high quality reviews – they truly are gifts between researchers serving as valuable sources of information for anyone needing an update or is new to a field.
Do you have a great idea for a review? Will you be the author of our next historical paper? Please share it with the world, we welcome work in every area of the chemical sciences and related disciplines – free to read and access for everyone who needs it.
We hope you enjoy our 10th Anniversary collections!
RSC Advances Editorial team
Highlighted articles
Development of 3D PVA scaffolds for cardiac tissue engineering and cell screening applications
Elisabetta Dattola, Elvira Immacolata Parrotta, Stefania Scalise, Gerardo Perozziello, Tania Limongi, Patrizio Candeloro, Maria Laura Coluccio, Carmine Maletta, Luigi Bruno, Maria Teresa De Angelis, Gianluca Santamaria, Vincenzo Mollace, Ernesto Lamanna, Enzo Di Fabrizio and Giovanni Cuda
Article, 2019

Mechanical and physicochemical behavior of a 3D hydrogel scaffold during cell growth and proliferation
Rebeca E. Rivero, Virginia Capella, A. Cecilia Liaudat, Pablo Bosch, Cesar A. Barbero, Nancy Rodríguez and Claudia R. Rivarola
Article, 2020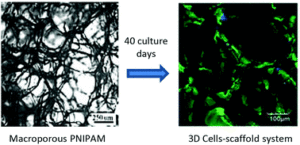 Facile synthesis of novel size-controlled antibacterial hybrid spheres using silver nanoparticles loaded with poly-dopamine spheres
Hongyong Luo, Changwei Gu, Weihua Zheng, Fei Dai, Xinling Wang and Zhen Zheng
Article, 2015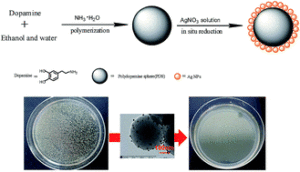 Fucoidans from brown seaweeds: an update on structures, extraction techniques and use of enzymes as tools for structural elucidation
Marcel Tutor Ale and Anne S. Meyer
Review, 2020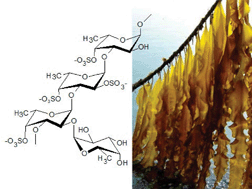 Submit to RSC Advances today! Check out our author guidelines for information on our article types or find out more about the advantages of publishing in a Royal Society of Chemistry journal.
Keep up to date with our latest HOT articles, Reviews, Collections & more by following us on Twitter. You can also keep informed by signing up to our E-Alerts.