In 2011 the Royal Society of Chemistry published the first issue of RSC Advances, and to celebrate our 10th anniversary we would like to share with you some of the very best articles that have been published in the journal throughout the years.
In this blog collection, papers published in RSC Advances by some of our highly prolific authors are showcased, demonstrating the consistency over time and our commitment to publishing quality research across the breadth of the chemical sciences.
Do you have a great idea for a review? We welcome work in every area of the chemical sciences and related disciplines – free to read and access for everyone who needs it.
Find out more about the history of RSC Advances and how we got to where we are today in the Editorial: RSC Advances: celebrating 10 years of publication.
We will continue to celebrate RSC Advances 10th Anniversary over the next few months and we look forward to sharing more articles and activities with you – follow us on Twitter or sign up for RSC Advances news for updates on our anniversary celebrations.
We hope you enjoy our 10th Anniversary collections!
RSC Advances Editorial team
A selection of papers from some of our highly prolific authors
Gold nanoparticles grafted with chemically incompatible ligands
Joanna M. Wolska, Aleksandra Błażejewska, Martyna Tupikowska, Damian Pociecha and Ewa Górecka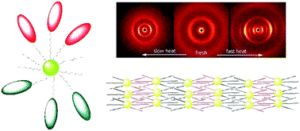 Silica coated iron nanoparticles: synthesis, interface control, magnetic and hyperthermia properties
A. Glaria, S. Soulé, N. Hallali, W.-S. Ojo, M. Mirjolet, G. Fuks, A. Cornejo, J. Allouche, J. C. Dupin, H. Martinez, J. Carrey, B. Chaudret, F. Delpech, S. Lachaize and C. Nayral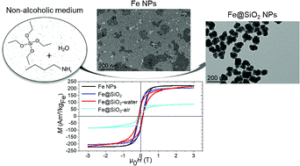 Direct speciation methods to quantify catalytically active species of AlCl3 in glucose isomerization
Angela M. Norton, Hannah Nguyen, Nicholas L. Xiao and Dionisios G. Vlachos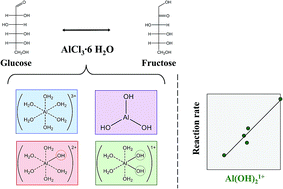 Enhanced control of plasmonic properties of silver–gold hollow nanoparticles via a reduction-assisted galvanic replacement approach
Josée R. Daniel, Lauren A. McCarthy, Emilie Ringe and Denis Boudreau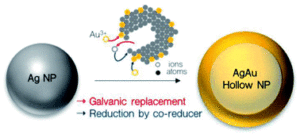 The effect of size and surface ligands of iron oxide nanoparticles on blood compatibility
Tao Liu, Ru Bai, Huige Zhou, Rongqi Wang, Jing Liu, Yuliang Zhao and Chunying Chen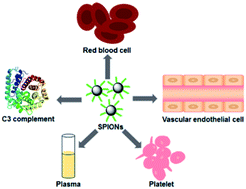 Electroactive Co(III) salen metal complexes and the electrophoretic deposition of their porous organic polymers onto glassy carbon
Marcello B. Solomon, Aditya Rawal, James M. Hook, Seth M. Cohen, Clifford P. Kubiak, Katrina A. Jolliffe and Deanna M. D'Alessandro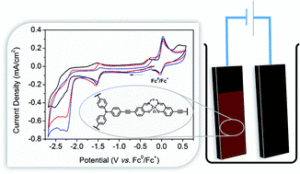 Efficient deoxygenation of waste cooking oil over Co3O4–La2O3-doped activated carbon for the production of diesel-like fuel
G. Abdulkareem-Alsultan, N. Asikin-Mijan, G. Mustafa-Alsultan, H. V. Lee, Karen Wilson and Y. H. Taufiq-Yap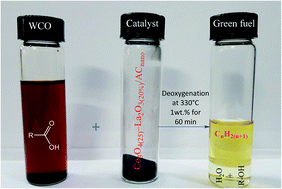 Green and sustainable zero-waste conversion of water hyacinth (Eichhornia crassipes) into superior magnetic carbon composite adsorbents and supercapacitor electrodes
Amonrada Saning, Servann Herou, Decha Dechtrirat, Chanoknan Ieosakulrat, Pasit Pakawatpanurut, Sulawan Kaowphong, Chanchana Thanachayanont, Maria-Magdalena Titirici and Laemthong Chuenchom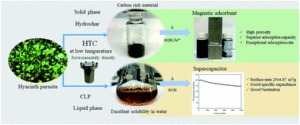 Interaction of cellulose and nitrodopamine coated superparamagnetic iron oxide nanoparticles with alpha-lactalbumin
Fakhrossadat Mohammadi, Marzieh Moeeni, Chengnan Li, Rabah Boukherroub and Sabine Szunerits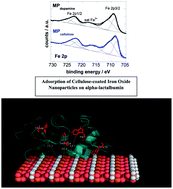 Cyclometalation of lanthanum(III) based MOF for catalytic hydrogenation of carbon dioxide to formate
Piwai Tshuma, Banothile C. E. Makhubela, Lars Öhrström, Susan A. Bourne, Nabanita Chatterjee, Isaac N. Beas, James Darkwa and Gift Mehlana
Bioinspired temporal supramolecular polymerization
Shikha Dhiman, Aritra Sarkar and Subi J. George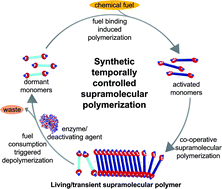 MOF derived carbon based nanocomposite materials as efficient electrocatalysts for oxygen reduction and oxygen and hydrogen evolution reactions
Sohini Bhattacharyya, Chayanika Das and Tapas Kumar Maji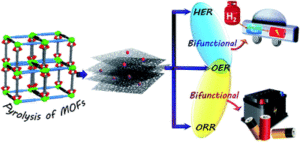 Enhanced electrochemical performance of nanoplate nickel cobaltite (NiCo2O4) supercapacitor applications
Anil Kumar Yedluri and Hee-Je Kim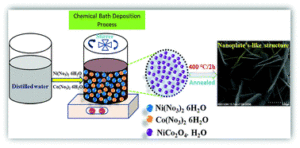 Catalytic decomposition of N2O over Cu–Al–Ox mixed metal oxides
Magdalena Jabłońska, Miren Agote Arán, Andrew M. Beale, Kinga Góra-Marek, Gérard Delahay, Carolina Petitto, Kateřina Pacultová and Regina Palkovits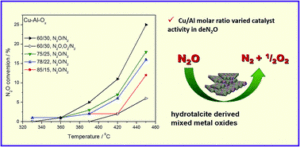 FeCl3 as a low-cost and efficient p-type dopant of Spiro-OMeTAD for high performance perovskite solar cells
Xiaoyu Gu, Yang Li, Yanfei Mu, Min Zhang, Tongbu Lu and Peng Wang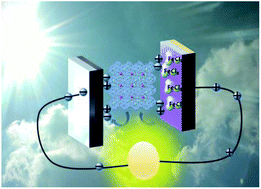 Antioxidant activity of cerium dioxide nanoparticles and nanorods in scavenging hydroxyl radicals
Alexander Filippi, Fobang Liu, Jake Wilson, Steven Lelieveld, Karsten Korschelt, Ting Wang, Yueshe Wang, Tobias Reich, Ulrich Pöschl, Wolfgang Tremel and Haijie Tong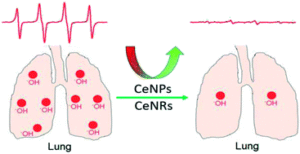 The relationship between crystalline disorder and electronic structure of Pd nanoparticles and their hydrogen storage properties
Okkyun Seo, Jaemyung Kim, Akhil Tayal, Chulho Song, L. S. R. Kumara, Shun Dekura, Hirokazu Kobayashi, Hiroshi Kitagawa and Osami Sakata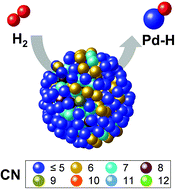 Low voltage operation of a silver/silver chloride battery with high desalination capacity in seawater
Pattarachai Srimuk, Samantha Husmann and Volker Presser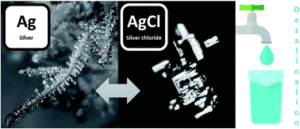 Function of pathway specific regulators in the ACE1 and pyrichalasin H biosynthetic gene clusters
Verena Hantke, Chongqing Wang, Elizabeth J. Skellam and Russell J. Cox

Developments and applications of nanomaterial-based carbon paste electrodes
Somayeh Tajik, Hadi Beitollahi, Fariba Garkani Nejad, Mohadeseh Safaei, Kaiqiang Zhang, Quyet Van Le, Rajender S. Varma, Ho Won Jang and Mohammadreza Shokouhimehr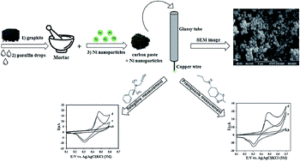 Facet-, composition- and wavelength-dependent photocatalysis of Ag2MoO4
Lucas Warmuth, Christian Ritschel and Claus Feldmann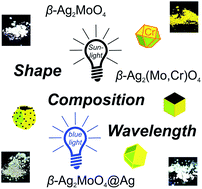 Large interlayer spacing Nb4C3Tx (MXene) promotes the ultrasensitive electrochemical detection of Pb2+ on glassy carbon electrodes
P. Abdul Rasheed, Ravi P. Pandey, Tricia Gomez, Michael Naguib and Khaled A. Mahmoud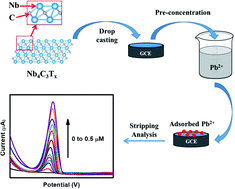 Position-locking of volatile reaction products by atmosphere and capping layers slows down photodecomposition of methylammonium lead triiodide perovskite
Fengshuo Zu, Thorsten Schultz, Christian M. Wolff, Dongguen Shin, Lennart Frohloff, Dieter Neher, Patrick Amsalem and Norbert Koch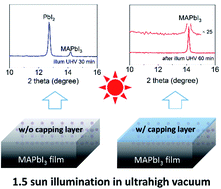 Dual enzyme-like activity of iridium nanoparticles and their applications for the detection of glucose and glutathione
Qingqing Wang, Guanghui Hong, Yang Liu, Jia Hao and Shaoqin Liu
Facile synthesis of chitosan membranes for visible-light-driven photocatalytic degradation of tetracycline hydrochloride
Huimin Liang, Caizhi Lv, Hanjiao Chen, Lan Wu and Xiandeng Hou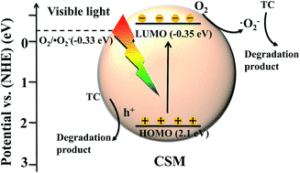 Submit to RSC Advances today! Check out our author guidelines for information on our article types or find out more about the advantages of publishing in a Royal Society of Chemistry journal.
Keep up to date with our latest HOT articles, Reviews, Collections & more by following us on Twitter. You can also keep informed by signing up to our E-Alerts.