In 2011 the Royal Society of Chemistry published the first issue of RSC Advances, and to celebrate our 10th anniversary we would like to share with you some of the very best articles that have been published in the journal throughout the years.
In this blog collection some of the most highly cited papers published in RSC Advances are showcased, demonstrating the consistency over time and our commitment to publishing quality research across the breadth of the chemical sciences.
Find out more about the history of RSC Advances and how we got to where we are today in the Editorial: RSC Advances: celebrating 10 years of publication.
We will continue to celebrate RSC Advances 10th Anniversary over the next few months and we look forward to sharing more articles and activities with you – follow us on Twitter or sign up for RSC Advances news for updates on our anniversary celebrations.
We hope you enjoy our 10th Anniversary collections!
RSC Advances Editorial team
2011
Hierarchical nickel sulfide hollow spheres for high performance supercapacitors
By Ting Zhu, Zhiyu Wang, Shujiang Ding, Jun Song Chen and Xiong Wen (David) Lou

Well-crystallized square-like 2D BiOCl nanoplates: mannitol-assisted hydrothermal synthesis and improved visible-light-driven photocatalytic performance
Jinyan Xiong, Gang Cheng, Guangfang Li, Fan Qin and Rong Chen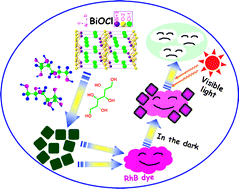 Magnetite/graphene nanosheet composites: interfacial interaction and its impact on the durable high-rate performance in lithium-ion batteries
Jisheng Zhou, Huaihe Song, Lulu Ma and Xiaohong Chen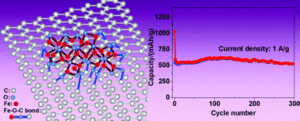 2012
Nitrogen-doped graphene with high nitrogen level via a one-step hydrothermal reaction of graphene oxide with urea for superior capacitive energy storage
Li Sun, Lei Wang, Chungui Tian, Taixing Tan, Ying Xie, Keying Shi, Meitong Li and Honggang Fu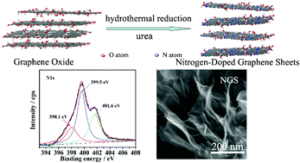 A thermodynamic analysis of methanation reactions of carbon oxides for the production of synthetic natural gas
Jiajian Gao, Yingli Wang, Yuan Ping, Dacheng Hu, Guangwen Xu, Fangna Gu and Fabing Su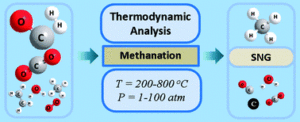 Freestanding Co3O4 nanowire array for high performance supercapacitors
Xin-hui Xia, Jiang-ping Tu, Yong-qi Zhang, Yong-jin Mai, Xiu-li Wang, Chang-dong Gu and Xin-bing Zhao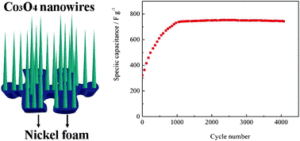 2013
A green and facile approach for the synthesis of water soluble fluorescent carbon dots from banana juice
Bibekananda De and Niranjan Karak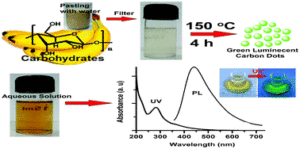 Understanding the local reactivity in polar organic reactions through electrophilic and nucleophilic Parr functions
Luis R. Domingo, Patricia Pérez and José A. Sáez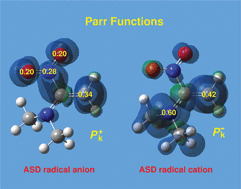 Using a two-step deposition technique to prepare perovskite (CH3NH3PbI3) for thin film solar cells based on ZrO2 and TiO2 mesostructures
Dongqin Bi, Soo-Jin Moon, Leif Häggman, Gerrit Boschloo, Lei Yang, Erik M. J. Johansson, Mohammad K. Nazeeruddin, Michael Grätzel and Anders Hagfeldt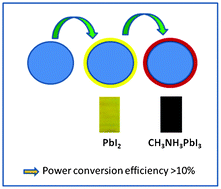 2014
Size-controlled silver nanoparticles synthesized over the range 5-100 nm using the same protocol and their antibacterial efficacy
Shekhar Agnihotri, Soumyo Mukherji and Suparna Mukherji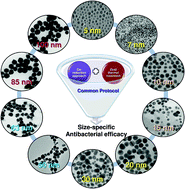 Principles and mechanisms of photocatalytic dye degradation on TiO2 based photocatalysts: a comparative overview
Anila Ajmal, Imran Majeed, Riffat Naseem Malik, Hicham Idriss and Muhammad Amtiaz Nadeem
Recent developments in palladium catalysed carbonylation reactions
Sandip T. Gadge and Bhalchandra M. Bhanage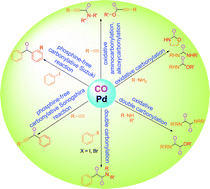 2015
Free radicals, natural antioxidants, and their reaction mechanisms
Satish Balasaheb Nimse and Dilipkumar Pal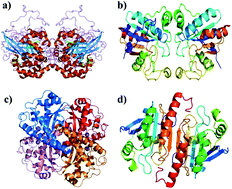 Removal of basic dye Auramine-O by ZnS:Cu nanoparticles loaded on activated carbon: optimization of parameters using response surface methodology with central composite design
Arash Asfaram, Mehrorang Ghaedi, Shilpi Agarwal, Inderjeet Tyagi and Vinod Kumar Gupta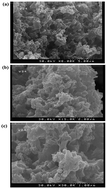 ZnO/Ag/Mn2O3 nanocomposite for visible light-induced industrial textile effluent degradation, uric acid and ascorbic acid sensing and antimicrobial activity
R. Saravanan, Mohammad Mansoob Khan, Vinod Kumar Gupta, E. Mosquera, F. Gracia, V. Narayanan and A. Stephen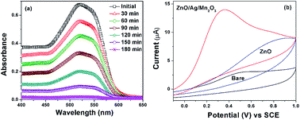 2016
Enhancing mechanical performance of epoxy thermosets via designing a block copolymer to self-organize into "core-shell" nanostructure
Zhengguang Heng, Zhong Zeng, Bin Zhang, Yinfu Luo, Jiemin Luo, Yang Chen, Huawei Zou and Mei Liang

Introducing DDEC6 atomic population analysis: part 1. Charge partitioning theory and methodology
Thomas A. Manz and Nidia Gabaldon Limas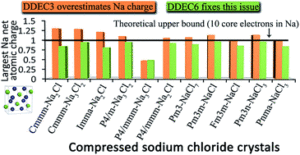 A mechanically synthesized SiO2-Fe metal matrix composite for effective dechlorination of aqueous 2-chlorophenol: the optimum of the preparation conditions
Yunfei Zhang, Bo Yang, Jinhong Fan and Luming Ma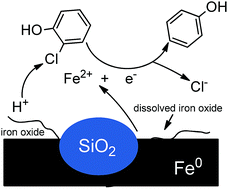 2017
A critical analysis of the alpha, beta and gamma phases in poly(vinylidene fluoride) using FTIR
Xiaomei Cai, Tingping Lei, Daoheng Sun and Liwei Lin

Synthesis and characterization of sulfophenyl-functionalized reduced graphene oxide sheets
Benjamin Diby Ossonon and Daniel Bélanger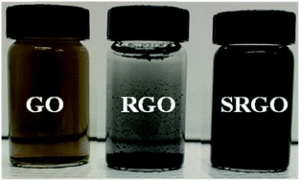 Surface characteristics influencing bacterial adhesion to polymeric substrates
Yue Yuan, Michael P. Hays, Philip R. Hardwidge and Jooyoun Kim

2018
Photoluminescence properties of a ScBO3:Cr3+ phosphor and its applications for broadband near-infrared LEDs
Qiyue Shao, Hao Ding, Leqi Yao, Junfeng Xu, Chao Liang and Jianqing Jiang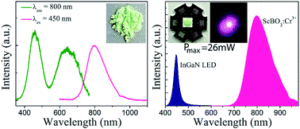 Frequency and temperature-dependence of dielectric permittivity and electric modulus studies of the solid solution Ca0.85Er0.1Ti1-xCo4x/3O3 (0 <= x <= 0.1)
Ch. Rayssi, S. El.Kossi, J. Dhahri and K. Khirouni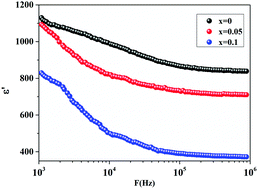 Sulfonated graphene oxide/Nafion composite membranes for high temperature and low humidity proton exchange membrane fuel cells
Mohanraj Vinothkannan, Ae Rhan Kim, G. Gnana kumar and Dong Jin Yoo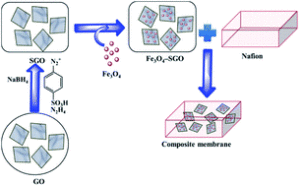 2019
Enhanced luminescence and tunable magnetic properties of lanthanide coordination polymers based on fluorine substitution and phenanthroline ligand
Xun Feng, Yapei Shang, Heng Zhang, Rongfang Li, Weizhou Wang, Daoming Zhang, Liya Wang and Zhongjun Li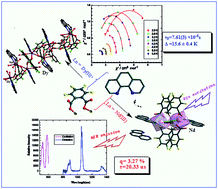 A facile preparation method for new two-component supramolecular hydrogels and their performances in adsorption, catalysis, and stimuli-response
Junlin Zhu, Ran Wang, Rui Geng, Xuan Zhang, Fan Wang, Tifeng Jiao, Jingyue Yang, Zhenhua Bai and Qiuming Peng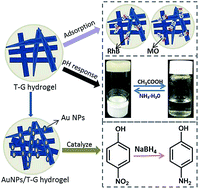 Numerical simulation of oscillatory oblique stagnation point flow of a magneto micropolar nanofluid
Muhammad Adil Sadiq, Arif Ullah Khan, S. Saleem and S. Nadeem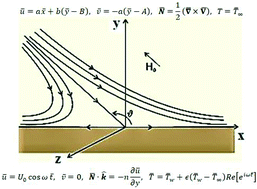 2020
Fabrication of CS/GA/RGO/Pd composite hydrogels for highly efficient catalytic reduction of organic pollutants
Lei Ge, Meng Zhang, Ran Wang, Na Li, Lexin Zhang, Shufeng Liu and Tifeng Jiao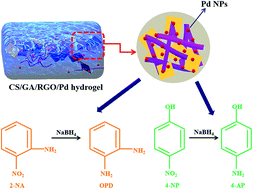 Synthesis of a hierarchical carbon fiber@cobalt ferrite@manganese dioxide composite and its application as a microwave absorber
Ailing Feng, Tianqi Hou, Zirui Jia and Guanglei Wu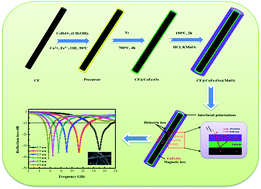 Anti-HIV drug repurposing against SARS-CoV-2
Peng Sang, Shu-Hui Tian, Zhao-Hui Meng and Li-Quan Yang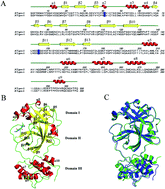 Submit to RSC Advances today! Check out our author guidelines for information on our article types or find out more about the advantages of publishing in a Royal Society of Chemistry journal.
Keep up to date with our latest HOT articles, Reviews, Collections & more by following us on Twitter. You can also keep informed by signing up to our E-Alerts.