We are delighted to welcome Professor Hideko Nagasawa to the RSC Advances team this month!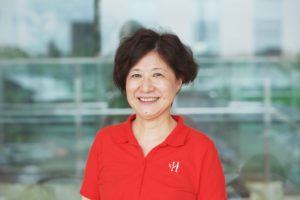 Dr Hideko Nagasawa is a Professor in the Department of Medicinal Chemistry at Gifu Pharmaceutical University, where she heads the Laboratory of Pharmaceutical and Medicinal Chemistry. She completed her PhD at Graduate School of Pharmaceutical Sciences, Kyoto University. Her research mainly focuses on drug discovery and chemical biology targeting the tumor microenvironment (TME). Projects pursued in her laboratory include the development of selective cancer therapies in TMEs of hypoxia and nutrient deprivation, and the creation of unique functional molecules such as fluorescent probes and caged compounds for the study of diverse cellular stresses.
Nagasawa says, "I am excited to join RSC Advances as an Associate Editor and look forward to contributing to the field of Chemical Biology and Medicinal".
Browse a selection of Hideko's RSC publications:
Asymmetric bismuth-rhodamines as an activatable fluorogenic photosensitizer
Akari Mukaimine, Tasuku Hirayama and Hideko Nagasawa
Org. Biomol. Chem., 2021, 19, 3611-3619
DOI: 10.1039/D0OB02456B
A 19F-MRI probe for the detection of Fe(ii) ions in an aqueous system
Ryo Kakiuchi, Tasuku Hirayama, Daijiro Yanagisawa, Ikuo Tooyama and Hideko Nagasawa
Org. Biomol. Chem., 2020, 18, 5843-5849
DOI: 10.1039/D0OB00903B
A Golgi-targeting fluorescent probe for labile Fe(ii) to reveal an abnormal cellular iron distribution induced by dysfunction of VPS35
Tasuku Hirayama, Masatoshi Inden, Hitomi Tsuboi, Masato Niwa, Yasuhiro Uchida, Yuki Naka, Isao Hozumi and Hideko Nagasawa
Chem. Sci., 2019, 10, 1514-1521
DOI: 10.1039/C8SC04386H
Organelle-specific analysis of labile Fe(ii) during ferroptosis by using a cocktail of various colour organelle-targeted fluorescent probes
Tasuku Hirayama, Ayaji Miki and Hideko Nagasawa
Metallomics, 2019, 11, 111-117
DOI: 10.1039/C8MT00212F

Submit to RSC Advances today! Check out our author guidelines for information on our article types or find out more about the advantages of publishing in a Royal Society of Chemistry journal.
Keep up to date with our latest HOT articles, Reviews, Collections & more by following us on Twitter. You can also keep informed by signing up to our E-Alerts.