We are very pleased to introduce He Dong, the corresponding author of the paper 'Modular design and self-assembly of multidomain peptides towards cytocompatible supramolecular cell penetrating nanofibers'. Her article has been very well received and handpicked by our reviewers and handling editors as one of our September HOT articles.  He Dong was kind enough to tell us more about the work that went into this article and what she hopes to achieve in the future. You can find out more about the author and their article below and find more HOT articles in our online collection.
Meet the Author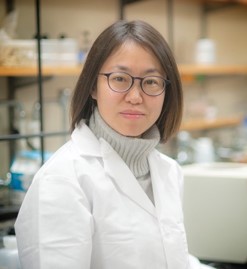 He Dong obtained her PhD degree in organic chemistry at Rice University in 2008. After postdoc work at Emory University and the University of California at Berkeley, she started her independent career in the Department of Chemistry and Biomolecular Science at Clarkson University in 2012. She joined the Department of Chemistry and Biochemistry at the University of Texas at Arlington in 2018. Her research is focused on biomimetic design and supramolecular assembly of soft matter nanomaterials for anticancer and antimicrobial therapy development. She received a NSF Faculty Early Career Award for her work on the design and self-assembly of antimicrobial peptides. Recently, she was named as an Emerging Investigator of Journal of Materials Chemistry for the development of stimuli-responsive cell penetrating nanomaterials.
Dong Group
Could you briefly explain the focus of your article to the non-specialist (in one or two sentences only) and why it is of current interest?
The efficacy of chemotherapy or gene therapy, in large part, depends on the ability of chemotherapeutics or genetic materials to cross the cell membrane to reach the cytoplasm. Designing nanomaterials that can facilitate intracellular delivery of therapeutics to the cytosol is of great interests from both fundamental research and practical point of view. This work is focused on a supramolecular approach for the design, and synthesis of supramolecular cell penetrating nanofibers (SCPNs) which have potent membrane activity and excellent cytocompatibility for intracellular delivery of therapeutics and/or imaging agents.
How big an impact could your results potentially have?
The success of the project will substantially advance our ability to develop peptide-based cell penetrating nanomaterials for a range of biomedical applications which required the delivery of therapeutics inside the cell. The range of molecular and supramolecular chemistry developed in this project will lead to a comprehensive fundamental understanding of the structure-activity relationship beyond the molecular level. The acquired knowledge will help build up a solid foundation for the rational design of supramolecular nanostructured materials, in particular nanofiber-based materials for other applications, not limited to drug/gene delivery in the biological arena. They can be potential used for vaccine delivery and antimicrobial materials design and development, all of which require potent cell penetrating activity.
Could you explain the motivation behind this study?
The discovery of cell penetrating peptides (CPPs) has great impacts on both fundamental and translational biomedical research due to their seemingly at will ability to transverse the cell membrane. However, most natural and synthetic CPPs suffer from poor stability against proteolysis and rapid in vivo clearance. Peptide self-assembly offers an effective method to generate supramolecular nanomaterials with improved stability, dynamic nanostructure and biological activity. In particular, the high aspect ratio peptide nanofibers showed good in vivo stability and have been extensively studied as functional scaffolds and for a variety of in vivo biomedical applications. Inspired by both natural CPPs and fibrous peptides, we build a novel class of supramolecular cell penetrating nanofibers (SCPNs) through the self-assembly of integrated cationic -sheet forming peptides to overcome the intrinsic limitation of traditional CPPs while having potent cell penetrating activity and minimum cytotoxicity.
In your opinion, what are the key design considerations for your study?
The key design considerations are on the modular design and self-assembly of MDPs to afford supramolecular assemblies with tunable nanostructure morphology and cationic domain conformational flexibility. The combined supramolecular structures and conformational flexibility of the cationic domain play dual roles in mediating the cell penetrating activity and therefore drug delivery efficacy.
Which part of the work towards this paper proved to be most challenging?
Understanding the correlation between structure and cell penetrating activity requires detailed structural characterization on both the molecular and supramolecular level. The biggest challenges that we overcome is the elucidation of the solution self-assembly states adopted by different supramolecular assemblies and further their structure-dependent membrane activity.
What aspect of your work are you most excited about at the moment?
From the fundamental self-assembly point of view, the work is novel and significant as it established a general peptide self-assembly mechanism by which SPCNs can be generated and optimized for both nanostructures and cell penetrating activity. From a broader viewpoint of biomedical application, these MDPs can be readily modified with various chemical functionalities, particular those served as stimuli-responsive chemical linkers that can respond to a range of disease-specific microenvironment to turn on/off the cell penetrating activity. Such efforts would be greatly beneficial for the development of smart SPCNs as disease-specific molecular therapy and imaging agents.
What is the next step? What work is planned?
The current work laid solid foundation for the synthesis of tumor microenvironment (such as pH, enzymes, ROS or hypoxia) responsive SCPNs which have tumor-specific cell penetrating activity. These "smart" tumor-responsive SCPNs would be great candidates to test the in vivo stability, targeting efficacy and overall therapeutic efficacy of SCPNs.
Modular design and self-assembly of multidomain peptides towards cytocompatible supramolecular cell penetrating nanofibers
Su Yang and He Dong
RSC Adv., 2020,10, 29469-29474
DOI: 10.1039/D0RA04748A, Paper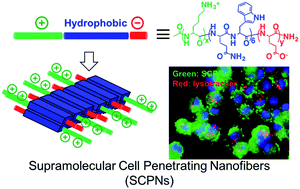 Submit to RSC Advances today! Check out our author guidelines for information on our article types or find out more about the advantages of publishing in a Royal Society of Chemistry journal.
Keep up to date with our latest HOT articles, Reviews, Collections & more by following us on Twitter. You can also keep informed by signing up to our E-Alerts.