We are very pleased to introduce Saurabh Das, the corresponding author of the paper 'A ZnII complex of ornidazole with decreased nitro radical anions that is still highly active on Entamoeba histolytica'. His article has been very well received and handpicked by our reviewers and handling editors as one of our June HOT articles.  Saurabh was kind enough to tell us more about the work that went into this article and what he hopes to achieve in the future. You can find out more about the author and their article below and find more HOT articles in our online collection.
Meet the Author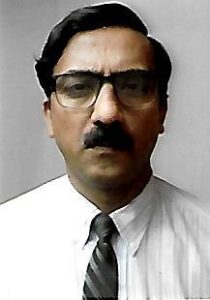 Saurabh Das completed his bachelor's degree with honours in Chemistry from Presidency College in 1990, then affiliated to University of Calcutta. His Master's with specialization in Inorganic Chemistry was done at the University College of Science, University of Calcutta in 1992. He received his PhD from University of Calcutta in 2000 having worked at the Chemical Sciences Division of Saha Institute of Nuclear Physics (Ph D Supervisor: Prof. Parikshit C Mandal). After two years of teaching at the Calcutta International School, Kolkata (1998-2000), five and a half years of teaching at the Department of Chemistry, Bejoy Narayan Mahavidyalaya, Hooghly (under University of Burdwan) (2000-2006) he joined the Department of Chemistry, Jadavpur University in January, 2006.
He is now a Professor with research interests in modulating the generation of reactive intermediates of different drugs forming inorganic complexes to strike a balance between efficacy and adverse effects; and offshoots of that general theme. He has 66 publications in peer reviewed international journals.
The research team:
Could you briefly explain the focus of your article to the non-specialist (in one or two sentences only) and why it is of current interest?
The molecule (Ornidazole) is a drug belonging to the 5-nitroimidazole family that is used to treat bacterial and/or parasitic infections. The performance of the drug depends on the generation of an intermediate (the nitro radical-anion) that kills disease causing microbes. The same intermediate is neurotoxic to the host (i.e. the system affected by disease causing microbes) upon prolonged use. Hence, controlling the generation of the nitro-radical anion is essential to strike a balance between efficacy and neurotoxic side effects.
How big an impact could your results potentially have?
The results should have a good impact since we worked with a compound that is already established as a drug and is part of a number of pharmaceutical formulations. The modified compound, i. e. the zinc complex needs to be tried in vivo, in living systems in order to identify the extent of difference between the work performed by in the laboratory (on model systems) and what the results would be on living systems. Experts would understand and realize here that a certain difference would exist which needs to be identified.
Could you explain the motivation behind this study?
The motivation of the study was to strike a balance between efficacy and neurotoxic side effects for this family of drugs. For most drugs, intermediates involved with the drug's efficacy are its problems as well. If they can be separated, then one can either increase cure for an accepted level of complication or decrease complications for an accepted level of cure.
In your opinion, what are the key design considerations for your study?
Modification of Ornidazole (the drug) in a manner that generation of nitro-radical anion is controlled, i.e, modulated. For our study, this was achieved through complex formation with Zn(II).
Which part of the work towards this paper proved to be most challenging?
There were three aspects to the study i) preparation of the complex and its characterization,, ii) showing that generation of nitro-radical anion is less for the complex which we followed by an enzyme assay and iii) inspite of decrease in nitro-radical anion formation, the complex showed the same efficacy on amoeba, as that observed for Ornidazole. A combination of these three aspects performed through suitable experiments suggest decrease in the formation of the nitro radical-anion should decrease neurotoxicity on the host (although we did not verify this in our study) but it should happen since studies earlier to ours have linked neurotoxicity to nitro radical-anion formation. Simultaneously, bacteria or parasite killing should also be affected which in our case did not happen. The complex maintained its killing efficacy of amoeba even with decreased nitro radical-anion; being as good as Ornidazole. This we attributed to aspects related to complex formation. We showed one such attribute of the complex in our study, that of it being able to bind DNA better than Ornidazole. So it's really a culmination of different experiments we performed.
What aspect of your work are you most excited about at the moment?
The fact modification of Ornidazole through complex formation with Zn(II) could increase its therapeutic index (T I) where T I = TD50/ED50; TD50 implies toxic dose in 50% of subjects and ED50 implies effective dose for 50% of population. The larger the T I, safer the drug. Besides, Zn being relatively non-toxic unlike other metal ions and since there is use for it in the bio-system, it should not be harmful if it goes into our bodies
What is the next step? What work is planned?
I have not really thought about it. Since the manuscript has been well received I will have to speak to one of my collaborators (Prof. Kasturi Mukhopadhyay of School of Environmental Sciences at the Jawaharlal Nehru University, New Delhi) in whose laboratory the biological experiments were performed, if she could take the Zn(II) complex forward and do few more studies with it that reveal its mechanism of action on bacteria and amoeba strains; may be try on different bacterial strains, while we perform more model studies to search for other attributes of complex formation. After these are done a sharing of data on biological experiments for mechanism of action and model studies performed (by us) could be useful to see for ourselves whether they correct to each other or establish a difference of opinion.
A ZnII complex of ornidazole with decreased nitro radical anions that is still highly active on Entamoeba histolytica
Promita Nandy, Soumen Singha, Neha Banyal, Sanjay Kumar, Kasturi Mukhopadhyay and Saurabh Das
RSC Adv., 2020,10, 23286-23296
DOI: 10.1039/D0RA02597F, Paper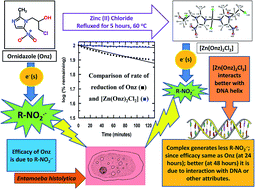 Submit to RSC Advances today! Check out our author guidelines for information on our article types or find out more about the advantages of publishing in a Royal Society of Chemistry journal.
Keep up to date with our latest HOT articles, Reviews, Collections & more by following us on Twitter. You can also keep informed by signing up to our E-Alerts.