We are delighted to share with you our latest collection of recently published articles focusing on Food, handpicked by Associate Editor Maria Angela A. Meireles.
The collection features research with the area of Food Engineering, Science, Technology, and Nutrition, illustrating the multidisciplinary aspects of this field that produces exciting research. The collection shows a fascinating relationship between the various fields involved in the subject area of Food. From articles that deal with the cultivation, livestock, etc. to articles dealing with the effects of metabolites in the human gut microbiota. There are articles on new sources of fibers and other bioactive compounds.
As one of the largest gold open access chemistry journals in the world, all publications in RSC Advances are free to access. We hope you enjoy reading these articles.
We invite you to submit your research to this collection and give your work the global visibility it deserves.
Featured articles:
Facile construction of magnetic core–shell covalent organic frameworks as efficient solid-phase extraction adsorbents for highly sensitive determination of sulfonamide residues against complex food sample matrices
Jing-Min Liu, Shi-Wen Lv, Xin-Yue Yuan, Hui-Lin Liu and Shuo Wang
RSC Adv., 2019, 9, 14247-14253. DOI: 10.1039/C9RA01879D
Antioxidative and antimicrobial edible chitosan films blended with stem, leaf and seed extracts of Pistacia terebinthus for active food packaging
Murat Kaya, Sanaz Khadem, Yavuz Selim Cakmak, Muhammad Mujtaba, Sedef Ilk, Lalehan Akyuz, Asier M. Salaberria, Jalel Labidi, Ako Hamasaeed Abdulqadir and Engin Deligöz
RSC Adv., 2018, 8, 3941-3950. DOI: 10.1039/C7RA12070B
Products of sugar beet processing as raw materials for chemicals and biodegradable polymers
J. Tomaszewska, D. Bieliński, M. Binczarski, J. Berlowska, P. Dziugan, J. Piotrowski, A. Stanishevsky and I. A. Witońska
RSC Adv., 2018, 8, 3161-3177. DOI: 10.1039/C7RA12782K
Meet the Editor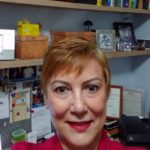 Employed for close to 34 years at the University of Campinas (UNICAMP) in São Paulo, Brazil, Professor Meireles completed her PhD in Chemical Engineering at Iowa State University. Starting as an Assistant Professor in the School of Food Engineering in 1983, she has since become a Professor and has supervised 50 PhD dissertations, 30 MSc theses and approximately 72 undergraduate research projects. She has also coordinated scientific exchange projects between UNICAMP and European universities in France, Germany, Holland, and Spain. Angela has served as a Head of Department, as Associate Dean for Undergraduate Studies of Food Engineering and as Associated Director at the Chemical, Biological, and Agricultural Pluridisciplinary Research Center.
Professor Meireles' expertise helped her serve as the coordinator of Food Science for the Coordination for the Improvement of Higher Education Personnel (CAPES) between 2014 and 2018. She is a partner and innovative director of Bioativos Naturais, Ltd. and a current invited Professor at the School of Food Engineering at the University of Campinas.

Submit to RSC Advances today! Check out our author guidelines for information on our article types or find out more about the advantages of publishing in a Royal Society of Chemistry journal.
Keep up to date with our latest HOT articles, Reviews, Collections & more by following us on Twitter. You can also keep informed by signing up to our E-Alerts.