Meet the Author

We are very pleased to introduce Jawameer R. Hama, co-author of the paper 'Pyrrolizidine alkaloids quantified in soil and water using UPLC-MS/MS' with Bjarne W. Strobel. His article has been very well received and handpicked by our reviewers and handling editors as one of our HOT articles. Jawameer was kind enough to tell us more about the work that went into this article and what he hopes to achieve in the future. You can find out more about Jawameer and his article below and find more HOT articles in our online collection.
Hama received his Master degree in Analytical Chemistry from Bangor University (UK), 2013. In 2017, He became a PhD fellow at University of Copenhagen, Denmark, under the supervision of Dr. Bjarne W. Strobel. His research project focuses on quantification of crop produced natural toxins in groundwater.
Could you briefly explain the focus of your article to the non-specialist (in one or two sentences only) and why it is of current interest?
The article reports a fast, reliable, and sensitive analytical method to analyse pyrrolizidine alkaloids (PAs) in environmental samples, such as water and soil. To do this we optimised the sample preparation and analytical parameters.
How big an impact could your results potentially have?
There is a substantial impact of the study. We have pointed out that PAs can contaminate surface water, especially where there is a lot of vegetation containing PAs. This is because the concentration is much higher when compared with the pesticide concentration limits in water.
Could you explain the motivation behind this study?
We were motivated to know the fate of PAs in environmental samples, especially water, as my whole project is about water analysis. PAs are reported in food and feed – meaning they are stable and persist.
In your opinion, what are the key design considerations for your study?
There are several key designs in the study including planning and using the capacities in the house. Using an analytical system that is not in our house would be too costly. On the other hand, the capacity we have is moderately up to date.  In addition, we considered how the analytical platform could be improved compared to those already reported before by other authors. Thus, we have listed parameters to optimize the platform that haven't been done before. The location and time of sampling are crucial too.
In your article you mention that the findings may be used as platform to further study PAs in natural water and aquifers. Do you have a particular application in mind? How does it work?
The method is validated for environmental samples, further applications would look at and analyse water samples in the areas close to water bodies where the plants containing PAs are the main vegetation. It would also test the efficiency of waste water treatment plant stations to test if PAs end up in the drinking water as well as screen and monitor the groundwater – especially in places where groundwater is used as drinking water. For that only a sample from the location is required, then the rest of the work would be quickly done in the lab.
Which part of the work towards this paper proved to be most challenging?
The sample type was challenging because this was the first time we have optimized the method for environmental samples (soil and water). When you analyse soil and water samples, it is crucial to eliminate the matrix effect during sample preparation and analysis. In addition, the sample volume was also challenging as it determines the limit of lab work and analysis.
What aspect of your work are you most excited about at the moment?
The concentration and the compound types are very exciting, because we proved our hypothesis that PAs are stable and persist in the environment. If not, we would have given up or changed the route of the project long before.
What is the next step? What work is planned?
We plan to collect lists of samples from potential locations and design the field scale of the locations to know what the main factors that drive PAs in water are. We also plan to correlate seasonal growth of plants, weather (precipitation, snow, temperature) and time of sampling to understand the effect of them.
Pyrrolizidine Alkaloids Quantified in Soil and Water using UPLC-MS/MS
Jawameer R. Hama and Bjarne W. Strobel
RSC Adv., 2019, 9, 30350-30357
DOI: 10.1039/C9RA05301H, Paper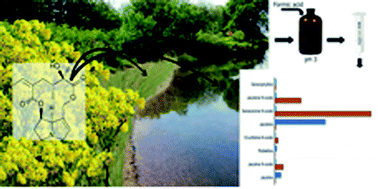 Submit to RSC Advances today! Check out our author guidelines for information on our article types or find out more about the advantages of publishing in a Royal Society of Chemistry journal.
Keep up to date with our latest HOT atricles, Reviews, Collections & more by following us on Twitter. You can also keep informed by signing up to our E-Alerts.