We are delighted to share with you our latest collection of recently published articles focusing on CO2 capture/reduction, handpicked by Associate Editor Carlos D. Garcia.
The collection features the most remarkable contributions published in the journal and aims to highlight recent work published and raise awareness of the most current strategies to mitigate the impact of CO2 on the atmosphere. The articles describe strategies to either promote the capture of CO2 or its reduction to yield organic compounds of higher value (methane, methanol, carbon monoxide, and short-chain organic acids). Although most of these articles describe clever chemical reactivity, their main focus ranges from biomimetic approaches to electrochemistry and photocatalysis. A central theme of these articles is the use and modification of nanomaterials.
As the world's largest gold open access chemistry journal, all publications in RSC Advances are free to access. We hope you enjoy reading these articles.
We invite you to submit your research to this collection and give your work the global visibility it deserves.
Featured articles:
Efficient electrocatalytic reduction of carbon dioxide by metal-doped β12-borophene monolayers
Jin-Hang Liu, Li-Ming Yang and Eric Ganz
RSC Adv., 2019, 9, 27710-27719. DOI: 10.1039/C9RA04135D
Catalysis with carbon nanoparticles
Caterina Testa, Agatino Zammataro, Andrea Pappalardo and Giuseppe Trusso Sfrazzetto
RSC Adv., 2019, 9, 27659-27664. DOI: 10.1039/C9RA05689K
A short review of recent advances in CO2 hydrogenation to hydrocarbons over heterogeneous catalysts
Wenhui Li, Haozhi Wang, Xiao Jiang, Jie Zhu, Zhongmin Liu, Xinwen Guo and Chunshan Song
RSC Adv., 2018, 8, 7651-7669. DOI: 10.1039/C7RA13546G
Meet the Editor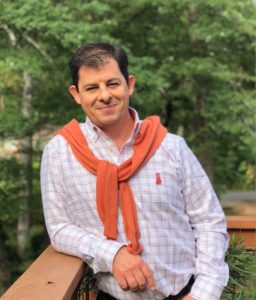 Dr. Garcia received his B.S. in Biochemistry and Ph.D. in Chemistry from the National University of Cordoba (Argentina) in 1996 and 2001, respectively. He then performed postdoctoral studies at Mississippi State University and Colorado State University under the supervision of Dr. W. Wilson and Dr. Charles Henry, respectively. In September of 2004, he joined the faculty at The University of Texas at San Antonio as an Assistant Professor of Analytical Chemistry, where he was promoted to Associate Professor (2010) and to Professor (2014). In Aug 2015, he joined Clemson University. In 2018 he was elected Fellow of the Royal Society of Chemistry. His group is focused on the study of interactions of proteins with nanostructured surfaces, the development of paper-derived electrodes, and the integration of nanomaterials with microfluidic devices.