We are pleased to introduce Professor Qingdong Zheng as our latest Editorial Board member!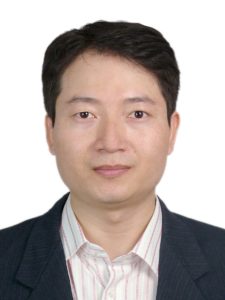 Qingdong Zheng is a Professor of State Key Laboratory of Structural Chemistry in the Fujian Institute of Research on the Structure of Matter, Chinese Academy of Sciences (CAS). He obtained his B.S. (1998), and M.S. (2001) degrees from East China University of Science and Technology, and his Ph.D. degree from the State University of New York at Buffalo in 2005. After carrying out his postdoctoral research at Johns Hopkins University, he joined CAS and took his current position in 2010.
Selected honors and awards include the "100 Talents Programme" of CAS in 2010, and distinguished Young Scholars of National Science Foundation of China (NSFC) in 2013. His main interests lie in optoelectronic materials and the related energy, photonic, and electronic devices, especially conjugated small-molecule or polymeric materials for applications such as solar cells, photodetectors, field-effect transistors, light-emitting diodes, and sensors. He has published over 100 papers in peer-reviewed journals and has previously worked with RSC Advances as an Associate Editor.
Browse a selection of work published by Qingdong:
Indenothiophene-based asymmetric small molecules for organic solar cells
Qi Shang, Meng Wang, Jiajun Weib and Qingdong Zheng
RSC Adv., 2017, 7, 18144-18150
DOI: 10.1039/C7RA01902E, Paper
Solution-processed MoSx thin-films as hole-transport layers for efficient polymer solar cells
Jiajun Wei, Zhigang Yin, Shan-Ci Chen, Dongdong Cai and Qingdong Zheng
RSC Adv., 2016, 6, 39137-39143
DOI: 10.1039/C6RA01204C, Paper
Ladder-type dithienocyclopentadibenzothiophene-cored wide-bandgap polymers for efficient non-fullerene solar cells with large open-circuit voltages
Qisheng Tu, Changquan Tang and Qingdong Zheng
J. Mater. Chem. A, 2019, 7, 3307-3316
DOI: 10.1039/C8TA11404H, Paper
Enhancing the performance of photomultiplication-type organic photodetectors using solution-processed ZnO as an interfacial layer
Jianbin Wang and Qingdong Zheng
J. Mater. Chem. C, 2019, 7, 1544-1550
DOI: 10.1039/C8TC04962A, Paper
Submit to RSC Advances today! Check out our author guidelines for information on our article types or find out more about the advantages of publishing in a Royal Society of Chemistry journal.