A very warm welcome to Professor Karen Faulds!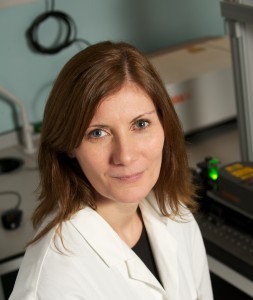 Please join us in extending a very warm welcome to Professor Karen Faulds, as she joins the RSC Advances team as an Editorial Board member!
Karen is a Professor in the Department of Pure and Applied Chemistry at the University of Strathclyde and an expert in the development of surface enhanced Raman scattering (SERS) and other spectroscopic techniques for novel analytical detection strategies. She is the recipient of the Nexxus Young Life Scientist of the Year award (2009), the RSC Joseph Black Award (2013) and the Craver Award from the Coblentz Society (2016). In 2011 was elected to the Royal Society of Edinburgh Young Academy of Scotland (YAS) and was elected Fellow of the Royal Society of Chemistry in 2012. She is the Strathclyde Director of the EPSRC and MRC funded Centre for Doctoral Training in Optical Medical Imaging, OPTIMA and is the current Chair of the Infrared and Raman Discussion Group (IRDG).
Karen is very much looking forward to her new role:
'I am delighted to be joining the Editorial Board for RSC Advances and look forward to working with the journal, it will be particularly exciting to work with a journal which has a remit which spans the diversity of the chemical sciences'
Karen Faulds and Matthew Baker have recently guest edited a Chemical Society Reviews themed issue on Fundamental Developments in Clinical Infrared and Raman Spectroscopy.