Organic & Biomolecular Chemistry, ChemComm and RSC Advances are delighted to announce the publication of a timely web collection on:
Nucleic Acids: new life, new materials
Guest-edited by:
| | |
| --- | --- |
| Michael Gait (MRC, Laboratory of Molecular Biology, Cambridge, UK) | Nadrian Seeman (New York University, USA) |
| Makoto Komiyama (University of Tsukuba, Japan) | Oliver Seitz (Humboldt-Universität zu Berlin, Germany) |
| David Liu (Harvard University, USA) | Jason Mickelfield (University of Manchester, UK) |
Through over 70 communications, full papers, feature articles and perspectives, this collection guides the reader through the most recent and exciting findings in nucleic acids research and applications in emerging areas.
Some of the work presented in this virtual collection is also dedicated to the memory of Professor Har Gobind Khorana (1922 – 2011) and Dr Daniel McGillivray Brown (1923 – 2012) acknowledging their legacy to the nucleic acids community.
"The ingenuity of nucleic acids chemists is formidable, particularly in the newly emerging areas involving DNA architecture combined with novel chemical modifications and material composites. This web collection nicely showcases this potential."
… Read this and more in the guest-editors' Editorial for the issue.
As a taster, this collection of articles includes:
Pyridostatin analogues promote telomere dysfunction and long-term growth inhibition in human cancer cells
Sebastian Müller, Deborah A. Sanders, Marco Di Antonio, Stephanos Matsis, Jean-François Riou, Raphaël Rodriguez and Shankar Balasubramanian
Org. Biomol. Chem., DOI: 10.1039/C2OB25830G, Paper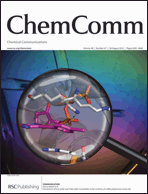 A clocked finite state machine built from DNA
Cristina Costa Santini, Jonathan Bath, Andy M. Tyrrell and Andrew J. Turberfield
Chem. Commun., DOI: 10.1039/C2CC37227D
Theoretical model of substrate-assisted self-assembly of DNA nanostructures
Shogo Hamada and Satoshi Murata
RSC Adv., DOI: 10.1039/C2RA20764H
Reduction of metal ions by boranephosphonate DNA
Subhadeep Roy, Magdalena Olesiak, Petra Padar, Heather McCuen and Marvin H. Caruthers
Org. Biomol. Chem., DOI: 10.1039/C2OB26661J
Dehydration from conserved stem regions is fundamental for ligand-dependent conformational transition of the adenine-specific riboswitch
Vinit Kumar, Tamaki Endoh, Kentaro Murakami and Naoki Sugimoto
Chem. Commun., DOI: 10.1039/C2CC34506D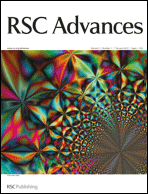 DNA glycoclusters and DNA-based carbohydrate microarrays: From design to applications
François Morvan, Sébastien Vidal, Eliane Souteyrand, Yann Chevolot and Jean-Jacques Vasseur
RSC Adv., DOI: 10.1039/C2RA21550K
The bacterial second messenger c-di-GMP: probing interactions with protein and RNA binding partners using cyclic dinucleotide analogs
Carly A. Shanahan and Scott A. Strobel
Org. Biomol. Chem., DOI: 10.1039/C2OB26724A
A DNA based five-state switch with programmed reversibility
Jonathan R. Burns, Søren Preus, Daniel G. Singleton and Eugen Stulz
Chem. Commun., DOI: 10.1039/C2CC35799B
Two-photon excitation of the fluorescent nucleobase analogues 2-AP and tC
R. S. K. Lane and S. W. Magennis
RSC Adv., DOI: 10.1039/C2RA21881J
…and many more.
We hope that you will find this collection enjoyable and stimulating to read!
Please feel free to send the link to the issue to other researchers who you think may be interested.