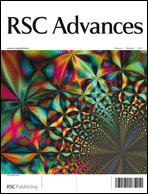 The following news item about our new journal RSC Advances has just been released:
Researchers from across the chemical sciences will have a new option for the publication of their research in 2011, thanks to the launch of RSC Advances.
Making the announcement today, acting Managing Director of Publishing, James Milne, said 'The publishing environment continues to change rapidly, and the RSC is recognised as the leader in providing innovative and high quality products and services for the chemical science community.
'Researchers regularly tell us they want to be able to submit their best research to the RSC, knowing we will provide an excellent editorial service, and the widest possible readership. RSC Advances extends the reach of our portfolio, and will enable more scientists to submit and publish their research results with us.'
RSC Advances will be a peer-reviewed journal, published online only, covering all the chemical sciences, including interdisciplinary fields. Published articles will report high quality, well-conducted research that adds to the development of the field. Research that is outside the criteria of the existing RSC journal portfolio will be actively encouraged. The journal is now open for submissions, and the first issue will be published mid-2011.
Professor Mike Ward, University of Sheffield, UK, the Chair of the Editorial Board, commented: 'I am looking forward to working with the RSC on this exciting new project. Research in the chemical sciences is expanding into new fields that were unknown a few years ago, and high quality scientific contributions come from more and more parts of the world; in response, the RSC is expanding its portfolio of journals to keep pace with these new developments. RSC Advances will have a key role to play in attracting publications in new fields of research and from all parts of the world, allowing the RSC to maintain its position as one of the leading publishers.'
Authors submitting to RSC Advances will benefit from rapid peer review and publication, have an Open Access option, and will see their work available on the RSC Publishing Platform. Published research will have very high visibility: from launch until December 2012, all content will be freely available online for all readers via the website. Authors with research that they would like to be considered for the first issues of RSC Advances can submit online .