Call for papers: Polymers for Gene Delivery
Guest Edited by Professors Sébastien Perrier, Todd Emrick, Marxa Figueiredo, Youqing Shen and Zhuxian Zhou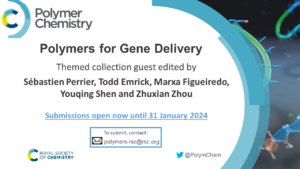 The Royal Society of Chemistry journal Polymer Chemistry has announced an open call to submit your research to a themed collection on Polymers for Gene Delivery.
This themed collection is Guest Edited by:
Professor Sébastien Perrier, University of Warwick
Professor Todd Emrick, University of Massachusetts Amherst
Professor Marxa Figueiredo, Purdue University
Professor Youqing Shen, Zhejiang University
Professor Zhuxian Zhou, Zhejiang University
Open for submissions until 31st January 2024
Polymers are increasingly being studied as gene delivery vectors, with research ranging from fundamental studies to therapeutic applications.  This themed collection will showcase the latest research in the field, with a focus on how the polymer's design impacts functional properties and end use.  Submitted papers will have a focus on how innovative polymer chemistry supports exciting properties, biological activity and/or therapeutic applications. Our aim for this collection is to celebrate the progress and strong contribution of polymer science in this area, and to inspire new research.
Submissions to the journal should fit within the scope of Polymer Chemistry and will undergo the normal initial assessment and peer review processes in line with the journal's high standards, managed by the journal editors. Please see the journal's website for more information on the journal scope, standards, article types and author guidelines.
Submit your work to Polymer Chemistry now!
If you would like to contribute to this themed collection, you can submit your article directly through the journal's online submission service. Please add a "note to the editor" in the submission form when uploading your files to say that this is a contribution to the Polymers for Gene Delivery themed collection. The Editorial Office reserves the right to check suitability of submissions in relation to the scope of the collection, and inclusion of accepted articles in the final themed collection is not guaranteed.
If you would like more information about the Polymers for Gene Delivery themed collection, please email Polymers-rsc@rsc.org.
We look forward to receiving your submissions and showcasing this important research in our collections.