We are pleased to introduce the Polymer Chemistry Outstanding Student Paper Award. This new annual award recognises outstanding work published in the journal, for which a substantial component of the research was conducted by a student. Read below for more information.
Our 2019 Winner
The inaugural recipient of the 2019 Polymer Chemistry Outstanding Student Paper award is Ms Evelina Liarou, currently a PhD student within the Haddleton group at the University of Warwick, for her contributions towards the paper titled 'Ultra-low volume oxygen tolerant photoinduced Cu-RDRP' (DOI: 10.1039/C8PY01720D).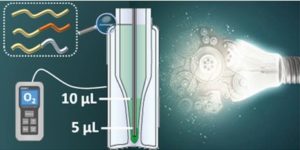 In this paper the authors introduce the first example of an oxygen-tolerant, ultra-low volume, photo-induced copper-RDRP method. A range of hydrophobic, hydrophilic and semi-fluorinated monomers are readily polymerized, achieving low dispersity values and quantitative monomer conversions in the absence of any conventional deoxygenation method. Notably, the reported conditions are compatible with extremely low volumes (as low as 5 μL total reaction volume), but can also be applied to larger scale polymerizations (up to 0.5 L). A further highlight of the paper is the use of an oxygen probe that allows for online monitoring of oxygen consumption, which significantly enhances the fundamental understanding of such polymerization protocols. Such an approach allows even non-experts to synthesise a range of materials with minimal effort and training.
Read the full article here now!
Eligibility
In order to be eligible for this award, the nominee must:
Have been a student at the time the research was conducted.

Be first author of a research article published in 2019 in Polymer Chemistry.
Selection Process
In order to choose the winner of the 2019 Outstanding Student Paper Award, a shortlist of articles that were published throughout the year, was selected by the editorial office and then subsequently assessed by the journal's Editorial Board members. The winner was selected based upon the significance, impact and quality of the research.
Prize
The winner of the Outstanding Student Paper Award will receive an engraved plaque and a travel bursary of £500 to use towards a meeting of their choice.
 ***
To have your paper considered for the 2020 Polymer Chemistry Outstanding Student Award, simply indicate upon submission if the first author of the paper fulfils this criteria.