It is with great pleasure that we announce Prof Cyrille Boyer (University of New South Wales) as the recipient of the 2018 Polymer Chemistry Lectureship.
This award, now in its fourth year, honours an early-career researcher who has made significant contribution to the polymer chemistry field. The recipient is selected by the Polymer Chemistry Editorial Board from a list of candidates nominated by the community.
Read on to find out more about Cyrille…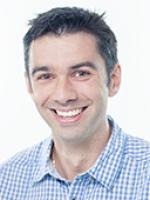 Cyrille received his PhD in polymer chemistry from the University of Montpellier II (Ecole Nationale Superieure de Chimie de Montpellier) and he is currently Professor at the School of Chemical Engineering, University of New South Wales (UNSW), co-Director of Australian Centre for NanoMedicine and a member of the Centre for Advanced Macromolecular Design (CAMD).
He has received a number of awards such as the Malcolm McIntosh Prize for Physical Scientist of the year 2015, the 2016 LeFevre Memorial Prize, 2016 ACS Biomacromolecules/Macromolecules Award, the 2016 Journal of Polymer Science Innovation Award and the 2018 Polymer International – IUPAC Award.
Cyrille has published over 200 articles and his research interests mainly cover the use of photoredox catalysts to perform controlled/living radical polymerization and polymer post-modification, the synthesis of polymeric nanoparticles for drug delivery (antimicrobial polymers) and hybrid organic–inorganic nanoparticles for imaging and energy storage. In the last few years, his team has pioneered photoinduced electron/energy transfer reversible addition fragmentation chain transfer polymerization (PET-RAFT) for the synthesis of functional polymers.

To learn more about Cyrille's research have a look at some of his publications in Polymer Chemistry
The effects of polymer topology and chain length on the antimicrobial activity and hemocompatibility of amphiphilic ternary copolymers
Rashin Namivandi-Zangeneh, Rebecca J Kwan, Thuy-Khanh Nguyen, Jonathan Yeow, Frances L Byrne, Stefan H Oehlers, Edgar HH Wong, Cyrille Boyer
Polym. Chem., 2018, Advance Article
DOI: 10.1039/C7PY01069A
Temperature programed photo-induced RAFT polymerization of stereo-block copolymers of poly(vinyl acetate)
Na Li,  Dongdong Ding,  Xiangqiang Pan,  Zhengbiao Zhang,  Jian Zhu,  Cyrille Boyer  and  Xiulin Zhu
Polym. Chem., 2017,8, 6024-6027
DOI: 10.1039/C7PY01531C
Oxygen tolerant photopolymerization for ultralow volumes
Jonathan Yeow,  Robert Chapman,  Jiangtao Xua  and  Cyrille Boyer
Polym. Chem., 2017,8, 5012-5022
DOI: 10.1039/C7PY00007C
RAFT-mediated, visible light-initiated single unit monomer insertion and its application in the synthesis of sequence-defined polymers
Changkui Fu,   Zixuan Huang,   Craig J. Hawker,   Graeme Moad,   Jiangtao Xu  and   Cyrille Boyer
Polym. Chem., 2017,8, 4637-4643
DOI: 10.1039/C7PY00713B
Application of oxygen tolerant PET-RAFT to polymerization-induced self-assembly
Gervase Ng,   Jonathan Yeow,   Jiangtao Xu   and Cyrille Boyer
Polym. Chem., 2017,8, 2841-2851
DOI: 10.1039/C7PY00442G
We would like to thank everybody who nominated a candidate for the 2018 Polymer Chemistry Lectureship. The Editorial Board had a very difficult task in choosing a winner from the many excellent and worthy candidates.
Please join us in congratulating Cyrille on winning this award!