We are pleased to announce that Prof. Dominik Konkolewicz (Miami University, USA) has joined the Editorial Board of Polymer Chemistry as an Associate Editor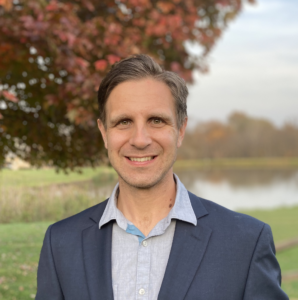 Dominik Konkolewicz is currently a Professor of Chemistry at Miami University in Oxford Ohio (USA). He earned a PhD from the University of Sydney in 2011, advised by Prof. Sébastien Perrier, and completed postdoctoral work at Carnegie Mellon University, in the group of Prof. Krzysztof Matyjaszewski. Dr. Konkolewicz has led a team of 10-15 polymer chemists and materials scientists at Miami University since 2014. His research interests lie at the intersection of polymerization kinetics, macromolecular engineering, biohybrids, and responsive materials. The Konkolewicz group designs polymer materials from a mechanistic perspective, with research efforts across dynamic covalent and non-covalent chemistry, biomaterials and bioconjugates, and light driven polymerization and degradation reactions. Particular focus areas are at the intersection of polymer science and sustainability, and polymers interacting with biomolecules.
Check out our interview with Dominik below:
What are you most looking forward to about your role as a Board member for Polymer Chemistry?
Overall I am excited to work with the team of editors, authors and reviewers to discover the newest developments in polymer science. I am especially excited to work with the multidisciplinary team at Polymer Chemistry to highlight the best and most exciting work in new macromolecules and applications of polymer materials.
What are your thoughts on the future of the polymer chemistry field and the role of Polymer Chemistry?
Certainly there are many important directions for the field of polymer chemistry. One that is important societally is sustainable use of polymers and plastics. I am looking forward to excellent papers in Polymer Chemistry that will develop practical solutions towards this substantial challenge.
Also we are already seeing the emergence of polymers in healthcare, and with milder polymerization methods and better controlled polymer synthesis, I anticipate that polymers impact on health science will continue to grow.
Would you be able to select a few of your favourite recent articles in Polymer Chemistry that you find particularly interesting or insightful?
It is hard to identify just a few papers, but I am excited about several different areas in Polymer Chemistry. There has been a lot of interest in recovering monomers post polymerization, which could have substantial impacts on sustainability. There are some great papers from the Anastasaki group on light driven depolymerization and bulk polymerization and depolymerization of caprolactone (DOI: 10.1039/D2PY01383E) which can be bio sourced from the Wang group (DOI: 10.1039/D2PY00953F)
Harrisson wrote a thought provoking paper on control, variability and dispersity in polymers, focusing on standard deviation as an important metric of precision (DOI: 10.1039/C8PY00138C)
I am also very excited to see design of polymers impacting the material's final properties, the the impact of composition, blending and architecture on thermal properties from the Lawrence group (DOI: 10.1039/D2PY00819J), using new chemistry to stabilize nano-objects from the Blasco group (DOI: 10.1039/D1PY00032B), and the complex networks made by combining cationic and radical polymerization from the Satoh and Takeoka groups (DOI: 10.1039/D2PY00554A)
Read Dominik's Editor's Choice articles here
Light-accelerated depolymerization catalyzed by Eosin Y
Valentina Bellotti, Kostas Parkatzidis, Hyun Suk Wang, Nethmi De Alwis Watuthanthrige, Matteo Orfano, Angelo Monguzzi, Nghia P. Truong, Roberto Simonuttia and Athina Anastasaki
Polym. Chem., 2023, 14, 253-258, DOI: 10.1039/D2PY01383E
Closed-loop chemical recycling of poly(ε-caprolactone) by tuning reaction parameters
Jiafeng Su, Guangqiang Xu, Bingzhe Dong, Rulin Yang, Hongguang Sun and Qinggang Wang
Polym. Chem., 2022, 13, 5897-5904, DOI: 10.1039/D2PY00953F
Versatile strategies to tailor the glass transition temperatures of bottlebrush polymers
Michael Dearman, Nduka D. Ogbonna, Chamberlain A. Amofa, Andrew J. Peters and Jimmy Lawrence
Polym. Chem., 2022, 13, 4901-4907, DOI: 10.1039/D2PY00819J (Featured in our 'Tailoring dispersity and shape of molecular weight contributions' themed collection)
One-pot synthesis of structure-controlled temperature-responsive polymer gels
Tomoki Sakai, Nagisa Ito, Mitsuo Hara, Takahiro Seki, Mineto Uchiyama, Masami Kamigaito, Kotaro Satoh, Taiki Hoshino and Yukikazu Takeoka
Polym. Chem., 2022,13, 4230-4240, DOI: 10.1039/D2PY00554A (Featured in our 'Polymer Networks' themed collection)
Stabilizing self-assembled nano-objects using light-driven tetrazole chemistry
Martina Nardi, Torsten Scherer, Liang Yang, Christian Kübel, Christopher Barner-Kowollik and Eva Blasco
Polym. Chem., 2021,12, 1627-1634, DOI: 10.1039/D1PY00032B
The downside of dispersity: why the standard deviation is a better measure of dispersion in precision polymerization
Simon Harrisson
Polym. Chem., 2018, 9, 1366-1370, DOI: 10.1039/C8PY00138C
These articles are FREE to access until 28 February 2023
We were delighted to announce Dominik as the recipient of the 2022 Polymer Chemistry Lectureship. Check out some of his recent work in our Lectureship winners collection
If you know someone as deserving as Dominik for the 2023 Polymer Chemistry Lectureship, nominate them before 28 February. More details here
Please join us in welcoming Dominik to the Editorial Board of Polymer Chemistry!
Submit your best work to Dominik and our team of fantastic Associate Editors on Polymer Chemistry now! Check out our author guidelines for information on our article types or find out more about the advantages of publishing in a Royal Society of Chemistry journal.