Polymer Chemistry is delighted to welcome another 9 outstanding polymer chemists to the Polymer Chemistry Advisory Board. These scientists run laboratories around the world and will help advise the Editorial Board on the direction of Polymer Chemistry as the journal grows. 
The new Polymer Chemistry Advisory Board members are:
• Yoshinobu Tsujii, Kyoto University, Japan
• Masami Kamigaito, Nagoya University, Japan
• Bernadette Charleux, Université Pierre et Marie Curie, France
• Jean Fréchet, King Abdullah University of Science and Technology, Saudi Arabia
• Steven Holdcroft, Simon Fraser University, Canada
• Eva Malmström, Jonsson Kungliga Tekniska högskolan, Sweden
• Maria Vicent, Prince Filipe Research Centre, Spain
• Swaminathan Sivaram, National Chemical Laboratory, India
• Mathias Destarac, Université de Toulouse, France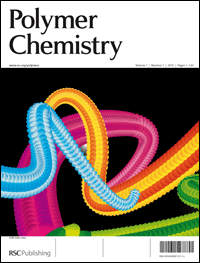 The full list of Polymer Chemistry Editorial Board and Advisory Board members can be found here.