Yang et al. have developed a one pot approach to prepare polymer-carbon nanotube conjugates.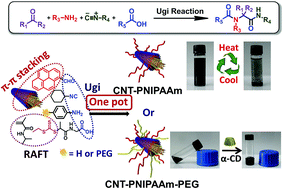 A hexa-component system has been successfully developed for simple polymer conjugation on carbon nanotubes. The well-known Ugi reaction has been recognized as a multicomponent click (MCC) reaction to efficiently collaborate with π–π stacking and RAFT polymerization to construct this delicate one-pot system. The CNT–(co)polymer composites inherit the properties of the conjugated polymers and can be well dispersed in both organic and aqueous solvents. As a simple and efficient method, this one-pot system might have the potential to become a general approach to prepare carbon-based composites.
The power of one-pot: a hexa-component system containing π–π stacking, Ugi reaction and RAFT polymerization for simple polymer conjugation on carbon nanotubes by Bin Yang, Yuan Zhao, Xu Ren, Xiaoyong Zhang, Changkui Fu, Yaling Zhang, Yen Wei and Lei Tao, Polym. Chem., 2015,6, 509-513.
Remzi Becer is a web-writer and Advisory Board member for Polymer Chemistry. He is currently a Senior Lecturer in Materials Science and the director of the Polymer Science and Nanotechnology masters programme at Queen Mary, University of London. Visit www.becergroup.com for more information.