Engelke and Truong demonstrate a light-induced para-fluoro-thiol reaction using the photogeneration of a superbase.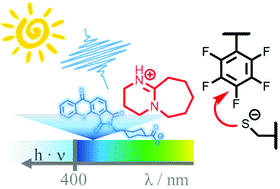 Post polymerisation modification of macromolecules enables the rapid synthesis of a wide range of polymers with different properties from the same starting material. One promising post polymerisation modification strategy is para-fluoro-thiol reaction (PFTR) which can be further expanded through the use of light as an external stimulus. In this work, Engelke and Truong describe a facile method towards light-enabled PFTR by employing the thioxanthone- 1,8-diazabicyclo[5.4.0]undec-7-ene (DBU) salt for light-induced activation of PFTR. The authors exploit this strategy in polymer chemistry by grafting various thiol-containing molecules to a post polymerisation modified backbone and by inducing polymer crosslinking.
The very fast release of DBU under visible light irradiation (blue light, 420 nm) allows for efficient para-fluorothiol ligation which can be used in the synthesis of small thioether molecules. Importantly, this photochemical process could be realized in very high yields (typically >85%) and the product can be easily isolated from the salt by products. The unique aspect of this approach is the temporal control over the photo-induced ligation compared to all other reactions employing photogeneration of a base catalyst, where the reaction continues even when the light is turned off. The PFT ligand could also be initiated by sunlight thus offering for a non-invasive and low-cost technique for the fabrication and modification of complex macromolecular structures. The authors are confident that such strategy mediated by external stimuli will be highly advantageous for soft lithography applications generating micro-and nanosized architectures.
Tips/comments directly from the authors:
1)  Don't be turned off by the synthesis of the caged DBU.  It's very straightforward and most of the steps are high yielding. In the step where poly(phosphoric acid) is used, a mechanical stirrer is highly recommended as the mixture can become quite viscous.
2)  The exciting aspect of this work is the efficient uncaging by sunlight which, as an energy source, is non-destructive, low-cost and pollution-free.
3)  Since DBU is a popular organocatalyst for some very important polymerization techniques, such as the ring opening polymerization of lactides and cyclic carbonates, or the polycondensation of isocyanate and polyols. This strategy could be employed for light-mediated polymerization of such monomers, enabling the synthesis of materials that would not be possible to access otherwise.
4)  It was quite fun to see the CO2 bubble (through a cannula) as soon as the light was switched on!
Citation to the paper: Visible light enabled para-fluoro-thiol ligation, Polym. Chem., 2020, 11, 7015-7019, DOI: 10.1039/D0PY01373K
Link to the paper: https://pubs.rsc.org/en/content/articlepdf/2020/py/d0py01373k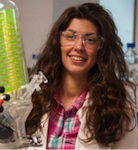 Dr. Athina Anastasaki is an Editorial Board Member and a Web Writer for Polymer Chemistry. Since January 2019, she joined the Materials Department of ETH Zurich as an Assistant Professor to establish her independent research group.