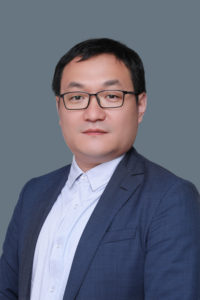 Shaofeng Liu is a professor at College of Polymer Science and Engineering at Qingdao University of Science and Technology. He received his B.S. in 2005 from Central South University, obtained his Ph.D. in 2011 from Institute of Chemistry Chinese Academy of Sciences (ICCAS) and Université de Strasbourg (UDS) under the supervision of Prof. Wen-Hua Sun and Prof. Pierre Braunstein. He then joined the group of Prof. Tobin J. Marks at Northwestern University as a postdoctoral fellow (2011-2014). In 2015, he moved to Qingdao University of Science and Technology and started his independent research career. His current research interests include organometallic catalysts for olefin polymerization and organocatalysts for sustainable polymers by ring-opening polymerization. 
Read Shaofeng's Emerging Investigator article, 'Chromium complexes supported by NNO-tridentate ligands: an unprecedented activity with the requirement of a small amount of MAO'
How do you feel about Polymer Chemistry as a place to publish research on this topic?
Polymer Chemistry is a leading journal and a preferred platform to publish important research in the field of polymer science.
What aspect of your work are you most excited about at the moment and what do you find most challenging about your research?
Our research interests include the development of organometallic catalysts for polyolefins by coordination polymerization and organocatalysts for sustainable polymers by ring-opening polymerization. Therefore, from the view of both catalytic systems (metal-based or metal-free catalysis) and resultant polymer materials (traditional and nondegradable polyolefin or degradable and recyclable polyester/polycarbonate), there seem to exit conflict of interests, which actually become our most excited aspects. For our current research, the most challenging work is designing simple catalysts to synthesize sophisticated polymers with superior performances.  
In your opinion, what are the most important questions to be asked/answered in this field of research?
The activity and selectivity are the most considered aspects for various polymerization reactions. In my opinion, how to balance these two aspects would be the most important question in the field of polymer synthesis.