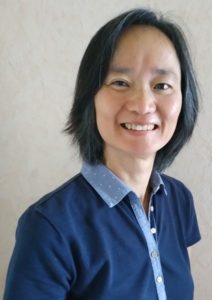 Trang N. T. Phan is an Associate Professor in the Institute of Radical Chemistry at Aix-Marseille University in France. She completed her undergraduate studies with a Masters in chemistry and then joined the PhD program in Polymers and Organic Chemistry at University of Lille 1. She received her PhD in 2000 under the supervision of Pr. M. Morcellet. During her PhD at the Macromolecular Chemistry Lab, she worked on the synthesis, characterization and water purification application of sorbents based on silica gel functionalized with β-cyclodextrin based polymers. During 2000-2002, she worked as a postdoctoral researcher at the Materials and Interfaces Chemistry Lab of University of Franche-Comté, first in the European project SILACOR and then in a project with BASF on the adsorption of polyelectrolytes on zinc oxide nanoparticles. In 2002, she joined Pr Denis Bertin's group, firstly as a temporary lecturer and then as a postdoctoral researcher. In September 2004, she became a full associate professor at Aix-Marseille University in the group of Didier Gigmes. In 2014, she received with her colleagues (R. Bouchet and D. Gigmes) the International Prize EDF PULSE Science and Electricity. Her current research interests are in the design and the synthesis of advanced functional polymers via controlled polymerization techniques for specific applications such as solid polymer electrolytes, polymers blend compatibilizers and structure-directing agents.
What was your inspiration in becoming a polymer chemist?
During my Bachelors course work and internship project, I started learning about polymer chemistry. I was fascinated by the "magic" of the transformation of small molecules (monomers) to polymers which are useful functional materials. From that moment, I decided to learn more about how chemistry can help to design and synthesize (co)polymers with precise structure, functionality and composition responding to desired properties and specific applications.
What was the motivation behind your most recent Polymer Chemistry article?
Radical ring-opening polymerization (rROP) of cyclic monomers is an attractive method to synthesize functional polymers bearing both heteroatoms in the backbone and functional groups in the side chain. In addition, the potential applicability of rROPs for copolymerizations with vinyl monomers is a highly attractive feature. Among different cyclic monomers, vinyl cyclopropane (VCP) derivatives were the most promising compounds since their rROPs led to low-shrinkage materials with attractive applications for dental adhesives and composites. However, functional groups in the side chain of VCP polymers are usually limited to halogens, esters and nitrile functions that restrict the development of new functional VCP polymers by post-polymerization modification. During our investigation of new VCP derivatives, we have achieved a straightforward pathway for the synthesis of VCP bearing azlactone functionality. The azlactone group can react via rapid and efficient ring-opening reactions with different nucleophilic species such as primary amines, hydroxyls, and thiols. We expect that the new VCP-azlactone (co)polymers could serve widely as a reactive platform for the introduction of chemical and biological functionality.
Which polymer scientist are you most inspired by?
I am greatly interested by the work being undertaken in the group of Pr. David Mecerreyes since their research allies polymer chemistry, supramolecular chemistry and nanomaterials science to synthesize innovative polymeric materials.
How do you spend your spare time?
I like cooking and experimenting with new recipes by combining western and oriental flavors. After all, cooking is similar to chemistry. I also like hiking and reading.
What profession would you choose if you weren't a scientist?
I'd be a Scuba dive master practicing somewhere in the warm waters of tropical seas.
Read Trang's full article now for FREE
---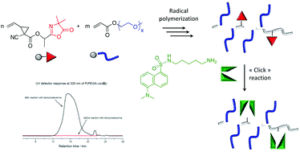 Azlactone-functionalized polymers are considered powerful materials for bioconjugation and many other applications. However, the limited number of azlactone monomers available and their multistage syntheses pose major challenges for the preparation of new reactive polymers from these monomers. In this article, we report the synthesis of a new class of azlactone monomers based on vinylcyclopropane (VCP). Furthermore, the (co)polymerization of the azlactone-functionalized VCPs has been successfully demonstrated to provide new azlactone polymers by using free-radical polymerization. The ability of the resulting amine-reactive polymers to be engaged in post-polymerization modifications was demonstrated using dansylcadaverine. These new azlactone-functionalized VCP monomers and polymers are potential candidates for the synthesis of innovative (bio)materials.
---
About the Webwriter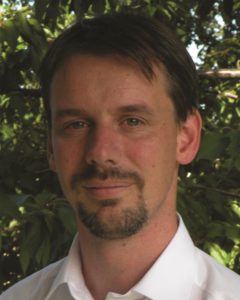 Simon Harrisson is a Chargé de Recherche at the Centre National de la Recherche Scientifique (CNRS), based at the Laboratoire de la Chimie des Polymères Organiques (LCPO) in Bordeaux, France. His research seeks to apply a fundamental understanding of polymerization kinetics and mechanisms to the development of new materials. He is an Advisory Board member for Polymer Chemistry. Follow him on Twitter @polyharrisson