Wang and co-workers report an anionic polymerization combined with polymerization-induced self-assembly.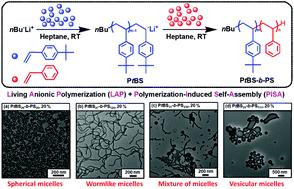 Polymerization-induced self-assembly (PISA) is arguably one of the most versatile and robust self-assembly methodologies and has been extensively evolved over the last decade to produce nanomaterials of various shapes. However, the vast majority of reported PISA methods employ a controlled radical polymerization strategy such as reversible addition–fragmentation chain transfer (RAFT) polymerization while low activated monomers such as styrenics are not frequently utilized. In this work, Wang and co-workers elegantly combine living anionic polymerization (LAP) with PISA to afford the facile and quantitative synthesis of spherical and worm-like nanoparticles. In particular, poly(p-tert-butylstyrene)-b-polystyrene was used as a model diblock copolymer and the polymerization was performed in heptane, a good solvent for the first block and a poorer solvent for the polystyrene segment. This formulation allowed the first monomer to polymerize in a homogenous system while the formation of the second block was performed under heterogeneous conditions. Importantly, all diblock copolymers synthesized exhibited narrow molecular weight distributions thus demonstrating excellent control over the polymerization. By adjusting the solid content and the molecular weight of each block, the authors were able to attain spheres, vesicles and worms at relatively high purity. To increase reproducibility, the authors also constructed a detailed phase diagram, where the exact location of each morphology was shown. Overall, it was demonstrated that LAP can be successfully combined with PISA therefore expanding PISA formulations beyond controlled radical polymerization.
Tips/comments directly from the authors:
All-styrenic monomers with relatively low activity were firstly introduced into the PISA system and can be completely converted in the LAP PISA system with a rapid polymerization rate.

The typical self-assembled morphologies, such as the spherical, worm-like and vesicular micelles, can also be captured in the LAP PISA system.

Due to the excellent control on the molecular weight and structure of polymers in the LAP process, the nano-objects formed in the LAP PISA process were featuring with uniform sizes and morphologies.

The molecular weights of each block and solids content have important influence on the LAP PISA process.

The LAP PISA process can be performed in a large scale, and the potential industrial application is hoped to be explored for some novel nanomaterials in the future.
Read this article for FREE until 11th June!
Citation to the paper: A polymerization-induced self-assembly process for all-styrenic nano-objects using the living anionic polymerization mechanism, Polym. Chem., 2020, 11, 2635-2639, DOI: 10.1039/d0py00296h
Link to the paper:
https://pubs.rsc.org/en/content/articlepdf/2020/py/d0py00296h
About the web writer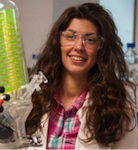 Dr. Athina Anastasaki is an Editorial Board Member and a Web Writer for Polymer Chemistry. Since January 2019, she joined the Materials Department of ETH Zurich as an Assistant Professor to establish her independent research group.