Lei and co-workers report an inexpensive organocatalyzed atom transfer radical polymerization.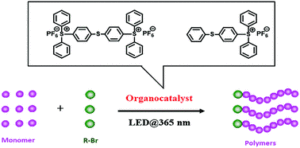 Organocatalyzed atom transfer radical polymerization (ATRP), also referred to as metal-free ATRP, has emerged over the last few years as an alternative to copper mediated ATRP in order to address the issue of metal contamination on the final polymers. In their current contribution, Lei and co-workers introduce triarylsulfonium hexafluorophosphate salt (THS) as an organic and inexpensive photocatalyst for ATRP of methacrylic monomers. The authors demonstrate exceptional temporal control with the polymerization completely stopping during the dark periods. Importantly, by adding sodium hydroxide, a significant acceleration over the polymerization rate was observed reaching relatively high conversions and narrow molecular weight distributions (Đ = 1.26–1.32). Block-copolymers were also possible, thus demonstrating high end-group fidelity. Last but not least, polymer brushes could also be prepared in an efficient manner on silicon wafer by utilizing surface-initiated ATRP in the presence of THS as a photocatalyst. Overall, the presented strategy is particularly attractive owing to the use of inexpensive compounds, the absence of metals and the mild temperatures employed. As the authors remark in the conclusions, such metal-free polymers may find interesting applications in the pharmaceutical, biomedical and food industries.
Tips/comments directly from the authors:
This organocatalyzed-ATRP system is easy to operate. It does not need to undergo freeze-pump-thaw cycles.

Temperature is an important factor for this organocatalyzed-ATRP system. Polymerization rate will be higher in summer and lower in winter unless you use an oil bath to have the temperature fixed.

Due to the poor solubility of THS in water, aqueous media cannot be used as a solvent for this organocatalyzed-ATRP.

When polymers with high molecular weights were synthesized by this system, the molecular weights were often lower than the theoretic values.

In order to more effectively neutralize the free H+ generated by the rearrangement of triarylsulfonium hexafluorophosphate salt (THS), the use of powdered sodium hydroxide (NaOH) is a good choice.
Read this article for FREE until 12th May!
Citation to the paper: Organocatalyzed atom transfer radical polymerization (ATRP) using triarylsulfonium hexafluorophosphate salt (THS) as a photocatalyst, Polym. Chem., 2020, 11, 2222-2229, DOI: 10.1039/c9py01742a
Link to the paper:
https://pubs.rsc.org/en/content/articlepdf/2020/py/c9py01742a
About the web writer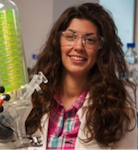 Dr. Athina Anastasaki is an Editorial Board Member and a Web Writer for Polymer Chemistry. Since January 2019, she joined the Materials Department of ETH Zurich as an Assistant Professor to establish her independent research group.