It is with great pleasure that we announce Prof Rachel O'Reilly (University of Birmingham) as the recipient of the 2020 Polymer Chemistry Lectureship.
This award, now in its sixth year, honours an early-career researcher who has made significant contribution to the polymer chemistry field. The recipient is selected by the Polymer Chemistry Editorial Board from a list of candidates nominated by the community.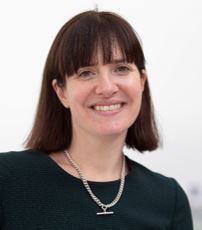 Read on to find out more about Rachel…
Rachel O'Reilly holds a Chair in Chemistry within the College of Engineering and Physical Sciences at the University of Birmingham. From 1st August 2018 she became the Head of the School of Chemistry. She graduated from the University of Cambridge in 1998 with a BA in Natural Sciences, and in 1999 with an MSc in Chemistry and completed her PhD in 2003 from Imperial College London. She has held a number of prestigious fellowships from the ESPRC, Royal Society and Royal Commission for the Exhibition of 1851.
She has published over 175 research papers in scientific journals as well as reviews and book chapters in the fields of polymer synthesis, self-assembly, catalysis and DNA nanotechnology. She has given over 170 invited lectures and was recognised as one of the Royal Society of Chemistry's 175 faces of Chemistry. She has received major grants and research support from the ERC, BP and EPSRC. She leads a large interdisciplinary team working at the interface of chemistry, materials and biology. Since 2006 she has graduated close to 25 PhD students and mentored over 20 postdoctoral researchers.
Rachel was appointed on the EPSRC strategic advisory network (SAN) in 2009 and served for almost 7 years. During this time she most significantly contributed to white papers on developing more flexible support for early career researchers, managing diversity and delivering impact. She holds a position as a review editor for Science and is an associate editor for Macromolecules.
Rachel leads the Rachel O'Reilly Group. Her group's work has received numerous national and international awards for her polymer and material efforts, including, uniquely, four from the Royal Society of Chemistry (RSC), and, young researcher medals from the American Chemical Society (ACS) and the International Union of Pure and Applied Chemistry (IUPAC), the world authority on chemical nomenclature and terminology.
To learn more about Rachel's research have a look at a selection of her publications in Polymer Chemistry:
Self-catalysed folding of single chain nanoparticles (SCNPs) by NHC-mediated intramolecular benzoin condensation
Sofiem Garmendia, Andrew P. Dove, Daniel Taton and Rachel K. O'Reilly
Polym. Chem., 2019,10, 2282-2289
Reversible ionically-crosslinked single chain nanoparticles as bioinspired and recyclable nanoreactors for N-heterocyclic carbene organocatalysis
Sofiem Garmendia, Andrew P. Dove, Daniel Taton and Rachel K. O'Reilly
Polym. Chem., 2018,9, 5286-5294
The application of blocked isocyanate chemistry in the development of tunable thermoresponsive crosslinkers
Marianne S. Rolph, Maria Inam and Rachel K. O'Reilly
Polym. Chem., 2017,8, 7229-7239
Understanding the CDSA of poly(lactide) containing triblock copolymers
Wei Yu, Maria Inam, Joseph R. Jones, Andrew P. Dove and  Rachel K. O'Reilly
Polym. Chem., 2017,8, 5504-5512
We would like to thank everybody who nominated a candidate for the 2020 Polymer Chemistry Lectureship. The Editorial Board had a very difficult task in choosing a winner from the many excellent and worthy candidates.
Please join us in congratulating Rachel on winning this award!