This week's issue of Polymer Chemistry is our 2020 Emerging Investigators issue, which contains articles from polymer chemistry researchers in the early stages of their independent careers and is accompanied by an Editorial from Editor-in-Chief Professor Christopher Barner-Kowollik. To celebrate this issue we are delighted to feature the profile of Professor Rongrong Hu, who published in our 2018 Emerging Investigators issue. Below, Rongrong talks about her research journey, from student to Professor, and her feelings towards Polymer Chemistry!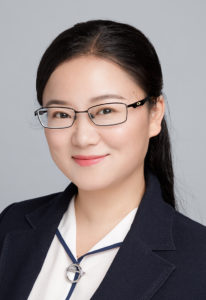 "With my organic synthesis training as an undergraduate student at Peking University where I learned the great diversity of organic reactions, and the research experiences on luminescent polymer materials during my PhD study at The Hong Kong University of Science and Technology where I learned the fascinating functionalities that polymers could achieve, I tried to combine organic synthesis and polymer synthesis in my research after I started my career in 2014. We utilize efficient organic reactions for the development of new polymerization methodology and the exploration of new polymer structures and materials. After 5 years of research, I am fully convinced by the huge opportunity that comes with this interdisciplinary study.
Polymer Chemistry, with its topics highly focused on the synthesis, functionalities, and applications of polymers, always provides timely publication and best publishing experiences on exciting progress in the field. It can also sensitively catch new research trend and young polymer chemists. In the 2018 Emerging Investigator issue, we introduced our work about room temperature alkyne and sulfonyl azide-based multicomponent polymerizations, which represent efficient approaches for the convenient construction of polymers with unique structures and functionalities. Encouraged by the broad response of this paper, we further developed several elemental sulfur-based multicomponent polymerizations with practical implication. Most recently, I joined Polymer Chemistry as an Associate Editor, working with the top polymer chemists in the world, to look for most up-to-date innovative and exciting polymer chemistry."
Read Rongrong's 2018 Emerging Investigators series paper below!
Room temperature multicomponent polymerizations of alkynes, sulfonyl azides, and N-protected isatins toward oxindole-containing poly(N-acylsulfonamide)s
Liguo Xu,   Fan Zhou,   Min Liao,   Rongrong Hu*  and  Ben Zhong Tang*
Polym. Chem., 2018,9, 1674-1683
FREE to read and download until the 1st March 2020.
Biography
Rongrong Hu received her B.S. degree from Peking University and her PhD degree from Hong Kong University of Science and Technology. She is currently a Professor of the State Key Laboratory of Luminescent Materials and Devices at South China University of Technology.
She has published over 110 peer-reviewed articles and reviews. Her research interests include (1) the development of alkyne or isocyanide-based multicomponent polymerization methodology through the combination of organic and polymer synthesis, and (2) luminescent polymers with diverse structures and applications. Her current research focuses on the development of multicomponent polymerizations of elemental sulfur and sulfur-containing functional polymers.