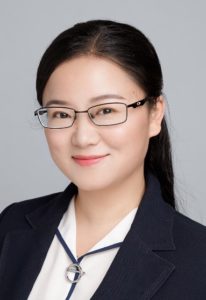 We are delighted to announce Professor Rongrong Hu (South China University of Technology) as a new Associate Editor for Polymer Chemistry!
Rongrong Hu received her B.S. degree from Peking University and her PhD degree from Hong Kong University of Science and Technology. She is currently a Professor of the State Key Laboratory of Luminescent Materials and Devices at South China University of Technology.
She has published over 110 peer-reviewed articles and reviews. Her research interests include (1) the development of alkyne or isocyanide-based multicomponent polymerization methodology through the combination of organic and polymer synthesis, and (2) luminescent polymers with diverse structures and applications. Her current research focuses on the development of multicomponent polymerizations of elemental sulfur and sulfur-containing functional polymers.
Read some of her recent articles below for free until the 17th January!
Room temperature multicomponent polymerizations of alkynes, sulfonyl azides, and N-protected isatins toward oxindole-containing poly(N-acylsulfonamide)s
Liguo Xu,   Fan Zhou,   Min Liao,   Rongrong Hu*  and  Ben Zhong Tang*
Polym. Chem., 2018,9, 1674-1683, Paper (Part of our 2018 Emerging Investigators series)
Red-emissive azabenzanthrone derivatives for photodynamic therapy irradiated with ultralow light power density and two-photon imaging
Qiguang Zang,   Jiayi Yu,   Wenbin Yu,   Jun Qian,   Rongrong Hu*  and  Ben Zhong Tang*
Chem. Sci., 2018,9, 5165-5171, Edge Article
Fluorescence visualization of crystal formation and transformation processes of organic luminogens with crystallization-induced emission characteristics
Chao Zheng,   Qiguang Zang,   Han Nie,   Weitao Huang,   Zujin Zhao,   Anjun Qin,   Rongrong Hu*  and  Ben Zhong Tang*
Mater. Chem. Front., 2018,2, 180-188, Research Article
Thermoresponsive AIE polymers with fine-tuned response temperature
Tingzhong Li,   Sicong He,   Jianan Qu,   Hao Wu,   Shuizhu Wu,   Zujin Zhao,   Anjun Qin,   Rongrong Hu*  and  Ben Zhong Tang*
J. Mater. Chem. C, 2016,4, 2964-2970, Paper

As a Polymer Chemistry Associate Editor, Rongrong will be handling submissions to the journal.
Why not submit your next paper to her Editorial Office?