The undesired adsorption of bacteria, proteins and other biomolecules on surfaces of biomedical devices often triggers the formation of biofilms causing severe systemic infections. In order to circumvent this, functional polymeric coatings with antifouling and/or antimicrobial properties are typically used. Towards this direction, Wurm, Lienkamp and co-workers developed photo-reactive poly(phosphoester)s (PPEs) which form surface-attached polymer networks and hydrogels. To achieve this, a benzophenone-functionalized cyclic phosphate monomer was synthesized and subsequently copolymerized with ethylene ethyl phosphate (EEP) yielding hydrophilic functional polymers. Upon terpolymerization with additional comonomers polymeric materials with pentyl (PEP), furfuryl (FEP) or butenyl (BuEP) pendants groups were obtained. Importantly, all polymerizations were well-controlled with good agreement between theoretical and experimental molecular weights and low dispersity values. The copolymerization kinetics were carefully monitored via real-time 31P nuclear magnetic resonance spectroscopy indicating a gradient-like structure. The cross-linked surface attached PPE networks were then formed by spin-coating these polymers onto pre-functionalized substrates followed by UV irradiation. Importantly, the layer thickness could be varied between 56 and 263 nm and was dependant on the applied polymer and the hydrophilicity of the substrates. Atomic force microscopy was also employed to further characterize these materials showing a homogeneous and smooth morphology with static contact angles of 20-26° (for specific networks) and revealing hydrophilic surfaces. Given the biocompatible nature of PPEs, these networks can potentially be promising anti-fouling coatings candidates for biomedical devices such as implants or catheters. In addition, initial functionalization of the substrates using furane-containing PPE-coatings demonstrated that additional modifications can be performed therefore paving the way for more complex surface architectures.

Tips/comments directly from the authors:  
Synthesis of PPEs must be conducted under strict exclusion of moisture.
The resulting copolymers are extremely hydrophilic. Thus, care must be taken to immediately cross-link them after spin-coating, or else they will de-wet from the surface.
Surface-attached poly(phosphoester)-hydrogels with benzophenone groups, Polym. Chem., 2018, 9, 315-326, DOI: 10.1039/c7py01777d
About the webwriter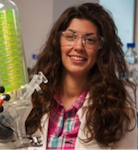 Dr. Athina Anastasaki is a Web Writer for Polymer Chemistry. She is currently a Global Marie Curie Fellow working alongside Professor Craig Hawker at the University of California, Santa Barbara (UCSB). Please, visit this site for more information.