Dynamically crosslinked polymeric materials have received significant attention owing to their unique characteristics including the introduction of mechanical properties and the possibility to extend a material's lifetime. These materials can typically find use in a wide range of applications such as coatings and elastomers. Konkolewicz and co-workers significantly contributed towards this direction by developing a facile synthesis of dynamic materials with thiol-maleimide based adducts. Maleimides are of particular importance as they consist of a highly reactive vinyl group for thiol-Michael addition reactions and typically demonstrate very high yields under mild conditions. To synthesize such materials, a thiol-maleimide cross linker (2-((1-(2-(acryloyloxy)ethyl)-2,5-dioxopyrrolidin-3-yl)thio)ethylacrylate) was initially synthesized and subsequently incorporated into a polymer matrix of hydroxyethyl acrylate. The properties of the elastomeric materials were then carefully evaluated by tensile testing, creep recovery, swelling studies, differential scanning calorimetry and rheological experiments. It was found that these polymeric materials showed dynamic behaviours like self-healing and malleability at elevated pH values and temperatures. In addition, these materials possess significant healing properties and are mechanically stable towards creep deformation at room temperature and pressure. Their stimuli responsive self-healing, elastic, malleable and mechanically stable nature in combination with the facile nature of the synthesis paves the way for potential utilization in different applications that require enhanced properties and functions.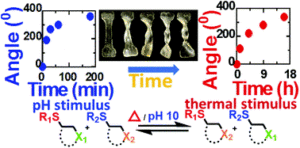 Tips/comments directly from the authors:
1. The synthetic techniques used to make the thiol-Michael based crosslinker (TMMDA) are very simple, but extra care should be given to store the crosslinker in the refrigerator or freezer. Storing the crosslinker at room temperature may result in background polymerization and eventually lead to loss of the crosslinker.
2. Although conventional free radical polymerization was used as a tool for polymerization, other polymerization techniques can be used as well. Although, reactivity of the thiol moiety has to be considered in that case.
3. Self-healing polymers are commonly responsive to single stimulus (e.g. temperature responsive Diels-Alder based polymer or light responsive disulfide polymer). TMMDA crosslinked materials developed in this paper have self-healing properties with both temperature and pH stimulus, giving them enhanced functionality and responsive character.
4. Dynamic materials synthesized in this article, based on the thiol-Michael reaction, showed malleability or reshape ability in response to both elevated temperature and pH. As a result, materials can be re-shaped into new configurations upon application of stimuli.
5. The thiol-Michael adducts are essentially static in the absence of thermal and pH stimulus, making the materials mechanically stable and creep resistant under ambient conditions.
Dual stimuli responsive self-healing and malleable materials based on dynamic thiol-Michael chemistry, Polym. Chem., 2017, 8, 6534-6543, DOI: 10.1039/C7PY01356F
About the webwriter
Dr. Athina Anastasaki is a Web Writer for Polymer Chemistry. She is currently a Global Marie Curie Fellow working alongside Professor Craig Hawker at the University of California, Santa Barbara (UCSB). Please, visit this link for more information.